News and Ideas from Camp Foley
With contributions by Campers, Staff, Directors, Parents and outside sources, the Rattlin' Blog is your one-stop-shop for all things camp. See videos, read what kids have to say about camp and find out about camp culture.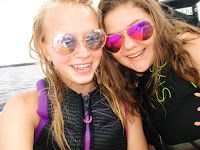 Check out a testimonial from a former camper Veronica about why she loves Camp and kept coming back. Veronica wrote this back in 2018, and we felt this was a great opportunity for a throwback...
Most Recent Posts from Camp Foley:

Today is International Lego day!  We here at Camp Foley love Legos! And in 2016 we made this love permanent by creating a whole building designed for using and storing Legos! So today I'd like to...

Hey Parents! It may only be October, but school (online or otherwise) will be over before you know it... Soon you'll be packing the kids up to come to Camp Foley! While everyone is super excited...

Either Yogi or Kayzak... How much do you love camp's dogs, Nike and Norm? I mean... they are playful, adorable and always provide some entertainment when they are around. Not surprisingly, Nike and...

Dear Father Foley, I often walk around camp and think about what your reaction would be to the Camp Foley that exists today. Are you surprised little Marie Schmid, who would make you your...

Christmas is next week! To celebrate the Holiday and add extra cheer to your home this season, here are 4 awesome and easy Do-it-Yourself decorations you can make with campers right at home! ...

This week we are looking at the History of Camp Foley's name and how it has changed over the years...   Did you know that our beloved Camp Foley was not always called that? Camp has had a few...

One of the most anticipated events of each session is the Grand Dance Festival. This is a night of dancing, singing, and an ice cream treat for all of our campers to enjoy one of the final days to...

Happy Thanksgiving from all of us here at Camp Foley! I thought it might be fun to be grateful this year is almost over. Today in this blog we are going to focus on things we are grateful for when...

Here we are with another installment of our History Blogs! This one will focus on the history surrounding Archery as an activity here at Camp Foley! Archery has been around since the beginning of...

The University sponsored the event This summer our LITs (Leaders in Training) participated in The Maverick Social Justice Camp. This camp is part of Minnesota State University Mankato programming...

We have come to the end of October and that means an end to our fundraising campaign Camp Moves Me! This year we raised $12,790 , which is so amazing!! We know this year has been anything but...

 Halloween is in 2 days!!! I always think it is such a shame that the real Halloween doesn't happen during camp. It has everything, hilarious costumes, yummy candy (aka canteen!), and a night full...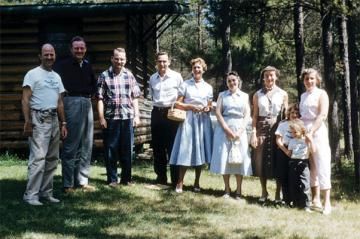 (from left to right) Speedy Aultman (Camp Thunderbird), Fred Rogers (Camp Lincoln/Camp Lake Hubert), Bob Schmid (Camp Foley), Unknown couple, Marlys Roger (Camp Lincoln/Camp Lake...

The Campers created their own Mario Kart! No, we're not talking about the video game... we're a tech-free camp after all! But what we are talking about is a fun happening from this past summer....

It's HERE! The time we have all been waiting for... Registration is open for everyone to sign up for the summer of 2021!    Also don't miss our awesome new registration video!!!! We know camp will...

It's time for another activity spotlight! This week is all about climbing, a very popular activity here at camp. Camp Foley has a two-sided, 38-foot tall climbing wall. The wall was built in 1999....

In addition to our Summer Camp Season, Foley has an Outdoor Education program that runs in the months of May and September. Foley's Environmental Education Center is open for school groups to come...

IT'S THAT TIME OF YEAR AGAIN!!! If you follow Camp Foley on social media (specifically Facebook or Instagram) then you have probably seen Foley Directors, Staff, and Campers participating in an...

Welcome to the latest of our Historical Blogs... Today we are taking look at Sailing through the years here at Camp Foley! It's one of the most popular activities at camp and is the only activity at...

While it may seem strange to some, Foley is known for having a great international presence from Mexico to France to Australia and Ireland. For campers and staff alike, the transition into camp...

Upper vs. Lower: which Treehouse is best? A special night for all of our two, three, and four-week campers is going to cook dinner and sleep in the treehouses. Upper Treehouse is up the Moose Trail,...

This week we want the blog to focus on why summer camp is so important for kids. We have an article from Chicago Parents that talks about how camp impacts kids long term. This article was written...

We are continuing our History blogs with a, particularly fun one today! We are going to travel through history and check out how the clothing trends have evolved over the last 95 years of Foley...

LARP-ing, or Live Action Role Playing, is an offshoot activity of Fencing that I brought to camp back in 2013. Campers would deck out in fencing gear and I would take them on a journey through the...
It's Never Too Late or Too Early to Plan for Summer!
We're so excited to meet you, and we'd love to answer any questions you have about Camp Foley and how much fun we'll have this summer!