A Message From Seleen Burns, 16, Foley Camper
End of Session Celebration: Alpha Games
In 2019 we shook up our last day of programming by introducing a new color wars-style event, Alpha Games. First, each camper was assigned to a team. To reveal their team colors, campers were surprised late one evening in their cabins and br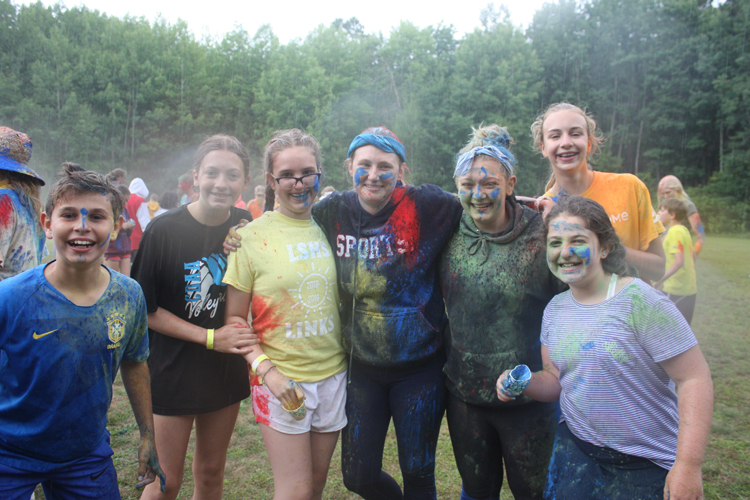 ought down to the center of camp to have the Eggs of Fate (eggs filled with colored powder, see right) determine whether they would join the Red Moose, Blue Porcupines, Green Bears or Yellow Badgers. Events ran over several days as teams worked together to build boats, create team cheers and a team flag. The day of the main event, teams gathered at the Large Field and the Barn for "Minute to Win It" activities, tug of war, relays, counselor events, scavenger hunts and a color-throwing war that left campers and counselors covered in multi-colored powder. The culminating event of 2019 was our Cardboard and Milk Jug Boat Regatta right on Whitefish Lake! We tested craftmanship, teamwork and creativity to see which team would become Alpha of their session.
     After the busy morning, campers and staff enjoyed an Alpha Feast. We had a variety of sliders, and mac and cheese bites made their debut. For dessert we served a delicious Oreo, yogurt and strawberry treat. By the afternoon our Alphas were crowned by the Orange Team Judges. Our Alphas were as follows: Red (1st session), Yellow (2nd session), Red (3rd session) and Blue (4th session). Watch the Alpha Game highlight from this past summer on YouTube!
2021 will have a brand new Alpha Games including an epic game of all camp capture the flag that will take place throughout all of camp! Returning campers will join the same team (bring some clothes in your color) as they did in 2019 with new campers being given their team during a special ceremony at camp.
4th of July
Due to the camp dates, no campers will be in camp to celebrate the 4th of July in 2021, however, we hope to continue the camp 4th of July traditions on July 1st! 1st session campers should be sure to pack something festive in red, white, and blue!

Namesake Night
When Father Foley first established his Catholic camp for boys, he named the cabins after the Na[1]tive American tribes, people, and places in Minnesota and the Midwest. We realize the names of these buildings have important meanings behind them and have been around much longer than the 97 years of Foley. Our goal is to show the important history behind these names and help campers understand why they are still significant today. Our hope is that campers will leave with a better appreciation of the Native American heritage that is part of the history of our nation.
Late Night Adventure: Flick n Float
Our famous Late Night Adventure is returning with a classic! Flick n Float is back and campers will get a chance to enjoy a 'flick" under the stars this summer. We will gather down at the Marina on one very special night, and sit on docks and some of our boats to watch a movie.
Creative Cooking: Tacos
We've done Italian and Korean and now it's time for Mexican food! This summer in cooking class, campers will get the chance to make quesadillas with homemade tortillas. You will be able to mix and match meat and veggie toppings to create your own unique creation.
Adventure Playgrounds
Something new coming to Foley this summer is Adventure Playgrounds. During special days, each playground will be set up in a unique area around Foley, and different materials will be available at each location. The goal of Adventure Playgrounds is for them to be camper driven, where almost anything is possible. Imaginations will be stretched and campers will decide what each Adventure Playground should be about, using the materials provided in any way they can come up with. Be social. Be Creative. Have fun!
Giant Games
Get ready for additional outdoor games this summer, with our brand new Tilta-Maze and Giant Connect 4! The Tilta-Maze is a 4 by 4 foot maze that runs a ball through its winding paths. The object of the game is to get the ball through a maze by tilting the board in different ways to move the ball to the middle. Campers will also love competing against each other in a giant version of the classic game, Connect 4.
Evening Programs
Camp is introducing creative evening programs for campers this summer. With the added week of camp, we have been coming up with unique programs to keep the excitement level high throughout the session. Here are just a few of the special evening programs campers may take part in this summer: A cruise around the lake while enjoying a picnic dinner; meeting our new baby snake and making a yummy treat over a campfire; an evening of yard games, such as, Giant Jenga, Giant Connect 4, Giant Tilta-maze, Ladder Golf and more; and competing in Olympic games Foley style. These are just some of the programs our campers can look forward to, and they are sure to make the first week of camp very memorable.
5K Races
We don't know for sure how, but we plan to give Foley campers the opportunity to run in local 5K races (maybe on the camp grounds) for various causes in 2021. Parents will be sent an email with information on how to register for these fun races. If you don't think they've gotten the email or if you have questions just let us know by sending an email.