A Message From Seleen Burns, 16, Foley Camper
End of Session Celebration: Alpha Games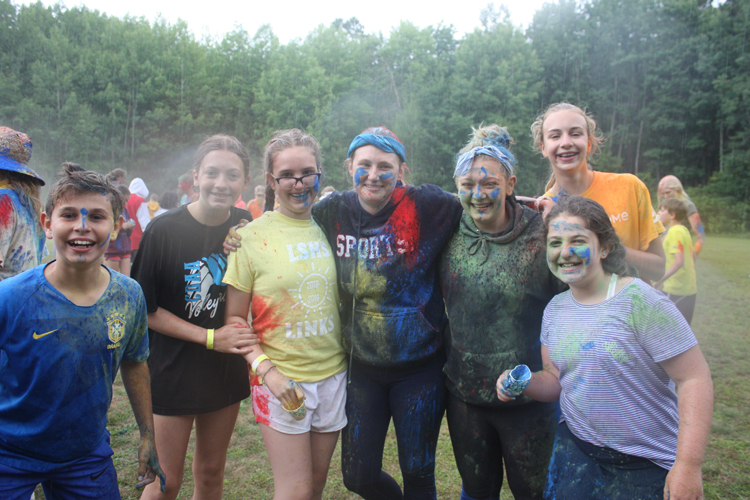 We called it the Battle of the Foley Frontier! It was an all-camp game of Capture the Flag. But when we say all camp, we mean ALL CAMP. We separated the camp into four teams and assigned each team a quadrant. The quadrants ranged from the girl's side to the boy's side, and from the Foley Fun Center to the Swim Dock. Almost every camper got to experience a Foley first of seeing the boys end or girls end of camp for the very first time! The last day of camp was always filled with anticipation. The Alpha games started right after breakfast, campers were told to come dressed not in team colors but in white clothing, so that they could sneak in and out of other teams quadrants without being noticed by other campers. Everyone was tasked with rescuing each other, finding flags, and defending flags in their quadrant. A special rule put into place affected our youngest campers. Our campers from 7-10 years old, called Foxes, were able to be gotten out by other foxes. Shout out to our Winning teams for each session…
1st Session-Green Team
2nd Session- Blue Team
3rd Session- Blue team
We can't wait for next year. All our returning campers will have an established team and we will have a while new experience waiting for our campers.
Late Night Adventure: Flick n Float
We brought an old classic this summer at Foley. Flick N Float made an appearance in all 3 sessions. Flick N Float is a

night in camp, usually the night before a sleep-in day, where the whole camp gathers down at the Marina to watch a movie while seated in lots of different water crafts. We set up a giant projector screen that hangs off the back of the marina facing Whitefish Lake. Kids pile into lots of different boats, from canoes and safety boats, to the ever-coveted spots on the ski boats in the back. It's a special night because the whole camp is included in this from our youngest foxes to our oldest wolves, all staying up late together. The movies ranged from session to session, starting with the 80s classic Honey I Shrunk the Kids, to a more millennial movie second session with High School Musical. This movie had the whole camp singing along to its great hits. Third session rounded us out with a great animated movie, Surf's Up. A great movie about a penguin's love for surfing, which was very fun to watch down at the marina surrounded by all our boats and lake equipment. Flick N Float will always be near and dear to our hearts, and it was such a treat to get to bring it back this summer.
Adventure Playgrounds
​We brought something new to Foley this summer in the form of Adventure Playgrounds! During special days, 3 different playgrounds were set up in a unique area around Foley, and different materials were available at each location. The goal of the Adventure Playgrounds was for them to be camper driven, where almost anything is possible. Camper were given 3 rules, do not harm the environment, each other, or Foley equipment. Everything else was up to them, and campers could be seen using the materials in lots of different ways, from constructing robots, to creating games with their own rules. Our 3 adventure playgrounds had one focused on athletics, that had many types of balls, cones, hoola hoops, and even giant boxing gloves! Another focused on the use of small tactile objects and had the campers using Legos, marbles, golf balls, and making ramps and courses out of cardboard and tarps. The third adventure playground was made up of many different materials that had been saved and recycled from other parts of camp life. This included things like giant ropes, tires, brooms, projector slides, bubble wrap, giant pieces of Styrofoam and much more. It was wonderful to see the campers use their imaginations in many different ways.
Giant Games
Campers had a blast this summer with our brand new Tilta-Maze and Giant Connect 4! The Tilta-Maze is a 4 by 4 foot maze that runs a ball through its winding paths. The object of the game is to get the ball through a maze by tilting the board in different ways to move the ball to the middle. Campers will also love competing against each other in a giant version of the classic game, Connect 4. Campers had the chance to play these and other great classic games like Koob, Spike-ball, and corn hole while making banana boats for an evening program.
Evening Programs
With the added week of camp that a 3 week session provided us, we were able to offer some new evening programs for our campers during the first 5 days of camp. Our oldest campers were able go zupping, using our Zup board, which can be used standing, kneeling, or laying on. Many of our campers got to have private picnics with their cabin. Some cabins gathered onto the pontoon boat with lots of snacks like trail mix, cold cut sandwiches, and sparkling water. Our youngest campers had picnics on our big rock seating areas, with pb&js, pudding, and strawberry chex mix, and played different games like ninja and musical chairs (musical rocks!) Our whole coyote camper population (11-13 year olds) got to compete against each other in different challenges each night, from relay races down at the swim dock, to a modern pentathlon inspired by the Olympics.
Foley Olympics
We took our celebration of the 2020 Olympics to a whole new level this summer! Each session on a special day, campers were divided up into different countries (teams) and competed to see who would win the "Foley Olympics". They played games inspired by real Olympic sports, including bowling-dodgeball, slingshot water balloon tossing (inspired by shot put), and a three legged relay race. We even held a medal ceremony third session at the same time as the ending of the real Olympics, with bronze, silver, and gold medals awarded to different cabins with the most points!
Founders Day
Every session we have a day set aside to celebrate some of our older traditions in anticipation for our 100 year anniversary in 2024. We call it Founder's Day in honor of our founder Father John P. Foley. We start the day with a flag raising ceremony and a calisthenics exercise, just like campers would do every morning for many years at camp. In the evening before dinner, campers are encouraged to dress up in nicer or "fancier" clothing and sit in the Dining Hall separated into boy and girl sides, a nod to when Foley first became co-ed and the boy and girl campers sat separately. We have a meal together and then enjoy a skit put on by the CITs about the history of Foley and how it has changed over the long years. Then the whole camp watches and participates in a talent show. It's always amazing to see what hidden talent there is here at Foley, from piano playing, gymnastics, to singing opera and choreographed dancing. We cap the evening off singing traditional songs all together like "Found a Peanut" and "Clementine". It's a wonderful chance for all our campers to get a glimpse into the rich history of Camp Foley.