A Message From Reis and Carson
A Message from Marie and Alli
What. A. Summer.
Our last group of campers left one week ago today and we have officially ended our summer program! Due to a mix of preparation, amazing staff, camper and parent participation, and probably a bit of dumb luck, we had no known cases of COVID-19 at camp this summer. Being able to finally exhale a bit, we have a few take-a-ways we wanted to share with our Foley Family as we celebrate the past and look to the future.
Kids needed camp and we needed kids. Having our campers back enjoying their activities, trying new things, investigating who they are as people and building relationships felt the same as any other year. The big difference is the kids seem to recognize the value even more. They said "thank you" more often. They were able to articulate how happy they felt at Foley. We heard a lot more "It is so great being back in my happy place". Likewise, nearly every day, even when we were stressed with the operations of camp, we needed the energy from the kids. It is what drives us to do our best work. Having them back at camp reminded us why this place is special.
The world has changed, so has camp, but a lot remains the same. Adapting to eating outside, grouping kids together in cabin groups more,  and dealing with testing and other precautions made parts of camp feel very different. But when the dust settled it was very apparent that camp is still camp. Kids still benefit from the support of adults beyond their parents. Staff still grow skills they will be able to use in any industry. And Soda Bread still tastes the same (in some ways it tasted better). We are proud of our decision to move to 3 week sessions as kids really settled in to the routine of camp and by the end of the sessions, there was very little that reminded us of the pandemic. Spending time figuring out vaccination rates (we were at 78% during our last session!), testing procedures and ways to minimize risk of exposure to kids, consumed time, but it didn't take away from our mission of connecting with campers and staff on an individual level. If anything it only helped remind us why that is so important.
We are ready to relax – but not quite yet!  We still have 4 fall weddings and a week of outdoor ed but we are back to working normal people hours (as normal as we can). We are looking forward to having our extended Schmid Family up for our labor day celebration, including the first trip to Foley for Baby Lo (Dad is Peter), Marie's first grandkid!
Our staff are super heroes.  As other camps and industries struggled with staffing, we were so proud of the group of staff we built this summer. Our summer staff worked harder than ever, gave up so much time with the outside world, grew as people, jumped higher than we could have ever expected them to jump and created a space for kids to feel supported. From the bottom of our hearts thank you to all of them for their dedication this summer. Ally Daily and Joe Harrington, our two assistant directors, went above and beyond to make our campers and staff feel safe, came to us with concerns, worked extremely hard and always came to work with a "we can do this" attitude. Mary Stevens, our office Guru, helped with all the extra paperwork and parent calls and Mike Lillo, our maintenance man, made our weird drawings and interesting ideas come to reality in order to help keep our kids safe and our facility working properly. We had an amazing team of camper coordinators, nurses, volunteers and cooks that did the thankless behind the scenes work that often is overlooked. Thanks to: Kate and Mike Mogard, Krista Strobel, Taylor Costas, Beth Foster, Mikka Green, Jordan Anderson, Jenny Delaney, Mary Schmid, Laura Lapczynski, Molly Hagerman, Chris Boder, Traci Haglund, Pam and Bruce Cunningham, David Carroll, Jordan Isaacs, Rachel Mann, Nate Meyer, Dave Hamel and Joe Christensen.
All the emails, phone calls, messages, and prayers have meant so much to us over the last 18 months. Know that our celebration is also your celebration. The support from our campers, parents, staff and alumni, have continued to drive us forward every day. We can't wait to get started on plans for 2022, but for now we are going to enjoy the last days of warm weather, continue to collect feedback and reconnect with the outside world. And maybe, just maybe, enjoy a pontoon ride or two of our own.
With love and gratitude in our hearts,
Marie & Alli
The Foley Museum and History: New History Discoveries
How are we making new historical discoveries?  Of course, it is digging in the attic, going through boxes of unmarked photos and memorabilia AND it is from our alumni!  We are gathering Foley photos, memorabilia, awards and honors, apparel and your memories and stories!  You can send us written memories and we can call you.
Stories: Written or Call and Tell us!
King Neptune Story '50,'51
The staff would bring all of the campers to the bank overlooking Whitefish Lake to welcome the "god of the sea".  As they chanted King Neptune would emerge from the water covered in sea weed and a trident in his hand.   Story told to Marie by Bill Klett, Staff '50, '51
The Building of the Chapel
A relative of Henry Rude as a boy was helping to haul rock for the chapel by mule up the big hill approaching camp when the mule collapsed and sadly died.  Marie has plans to have coffee with the couple to get more information.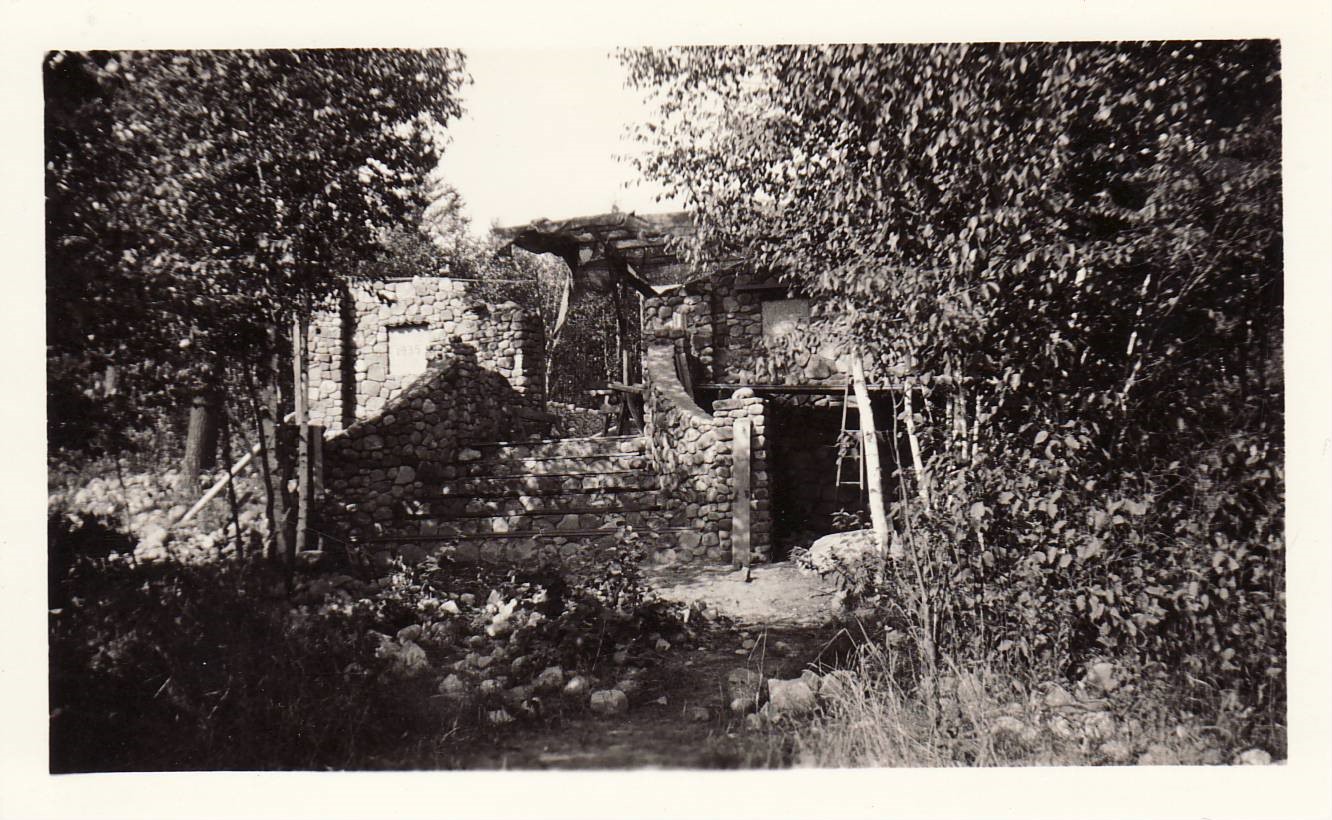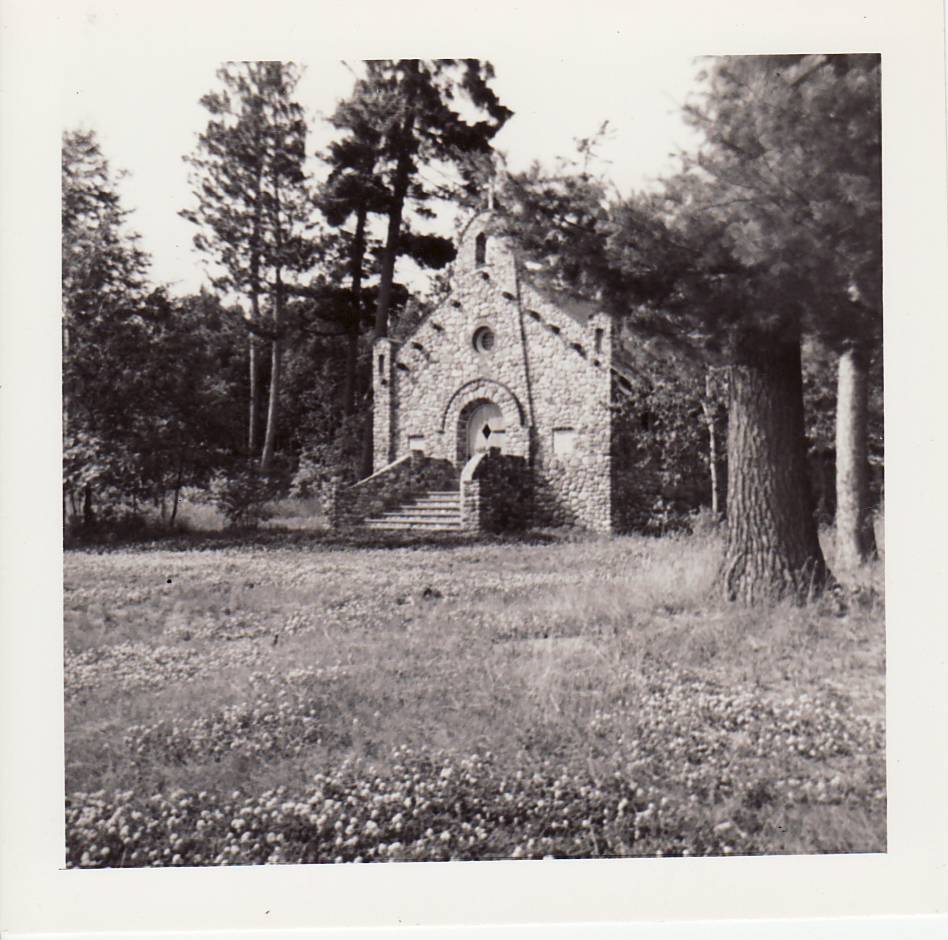 A Worm Corral Photo, '54
Who would have thought!  Can you guess where this was located?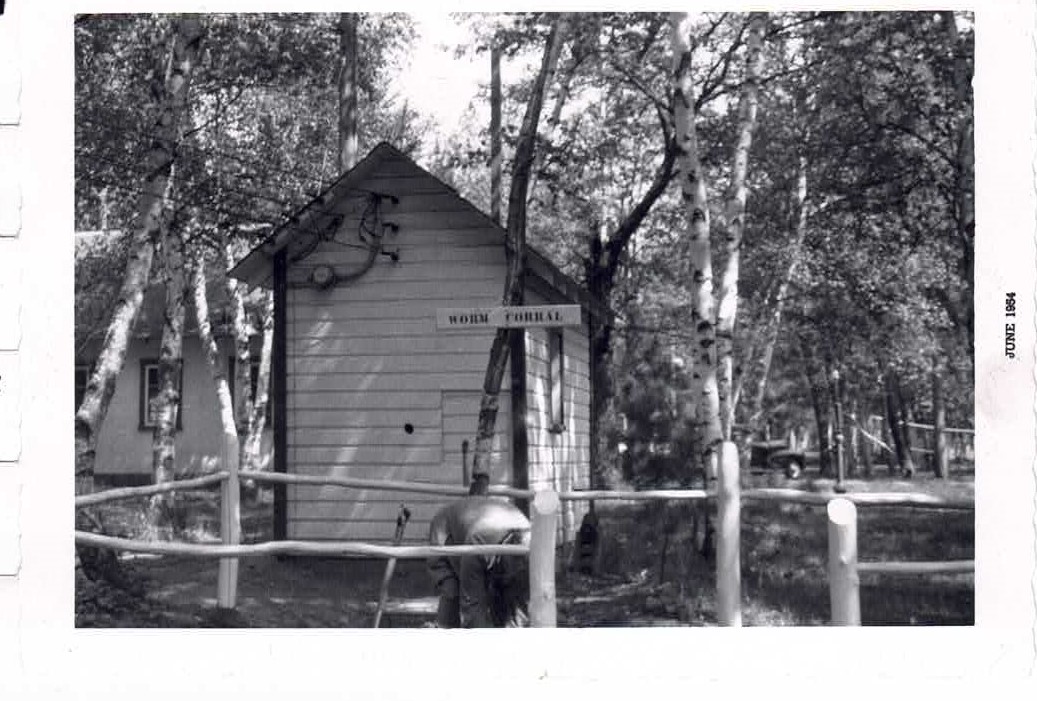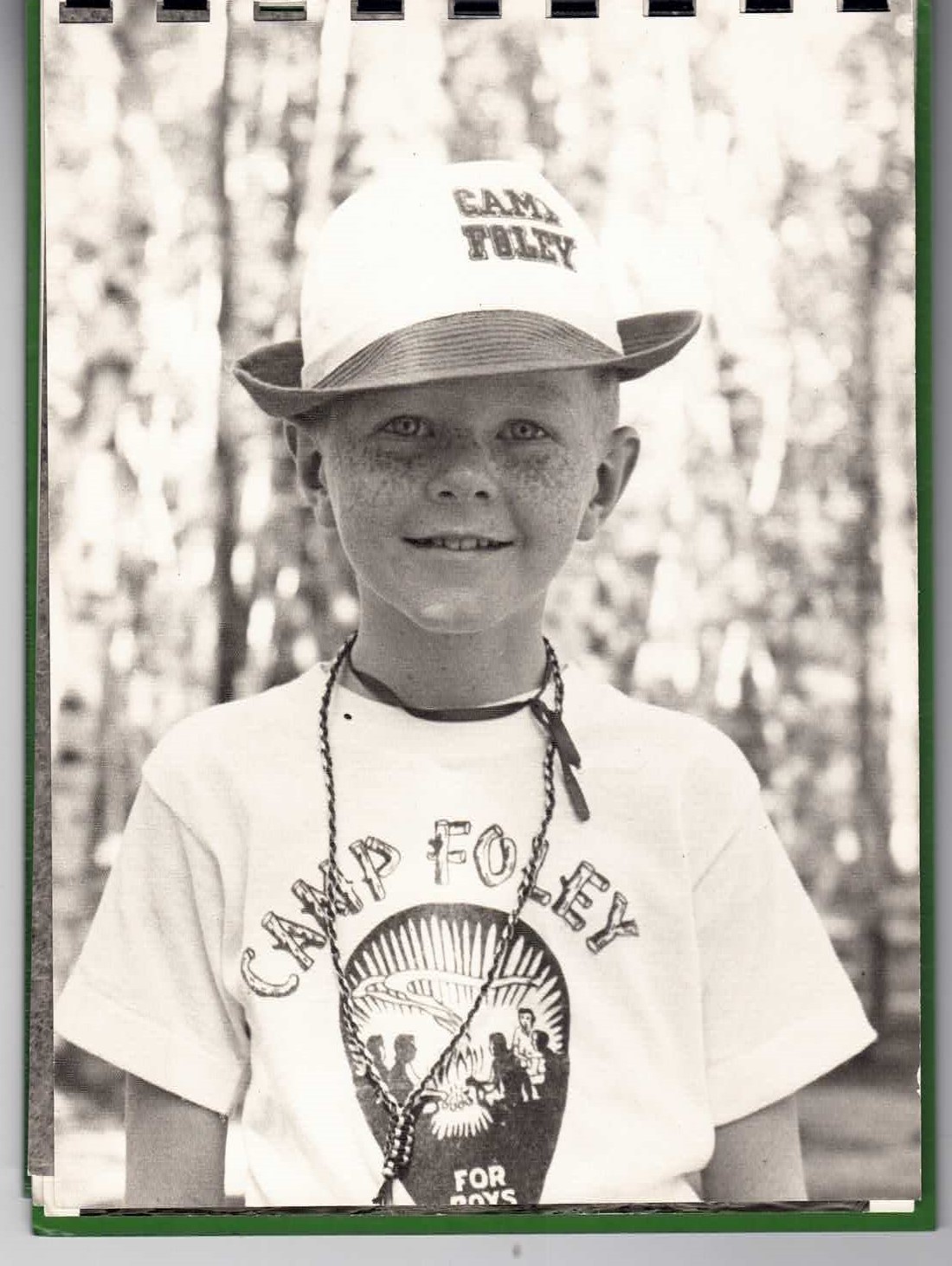 A Camper Photo that Makes One Smile, '62
George Battis, a younger camper from cabin Yakama with a bright smile, an awesome hat, a lanyard made at Crafts and the red ribbon around his neck (no longer done at Foley) indicating that he did not pass his Swim Test and a traditional Foley shirt!
Ongoing History Projects
Foley Hall Museum
Being a historian is time consuming!  Our museum has a layout plan thanks to Sarah M.  Space has been designated for the following:  Welcome Panel, Father Foley Era & Camp Chapel, Schmid Era, Food at Foley, "Living Room" (space to browse pictures, watch old camp movies, chat about memories), Activities, Recognition and Achievement, Ceiling Displays (including the Foley Apparel Quilt) and more!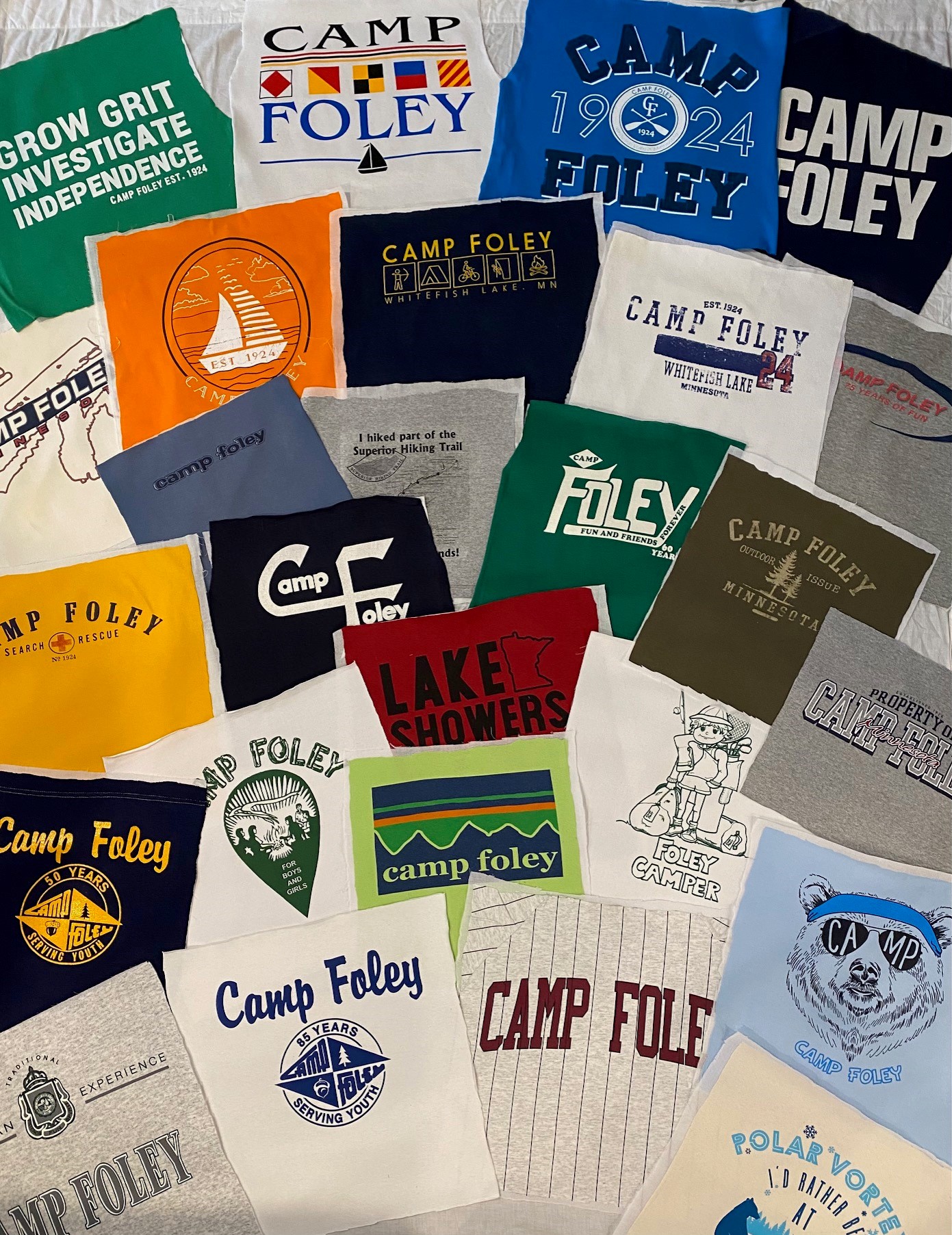 Foley Apparel Quilt
It has been so fun gathering Foley Gear from our alumni.  Thank you for all of you who have donated!  We have some items that we are hoping to display as we could not cut them. The quilt squares are ready to be sewn together. We are pretty confident we have found most of the designs over the years but if you think you have one that is rare, send us a picture, we would love to double check.
Awards, Honors and Memorabilia 
Over Foley's history, there have been various awards and honors given to our campers.  We have been gathering the actual patches, medals, and ribbons along with the criteria to display in our museum.  We are looking for items from 1924 – 1950 for sure and will be seeking specific items when we return to this project. We would love to collect all sorts of items. If you have anything you wouldn't mind either donating or lending to us, it would be great! Below left: Foley Jacket with Award patches sewn on from the 60's and bucket cap – on loan from the Krebsbach Family. Below middle: Awards and camper guide from the 80's – on loan from Lisa Richardson Munkeby. Below Right: A letter and patch from The Mahoney Family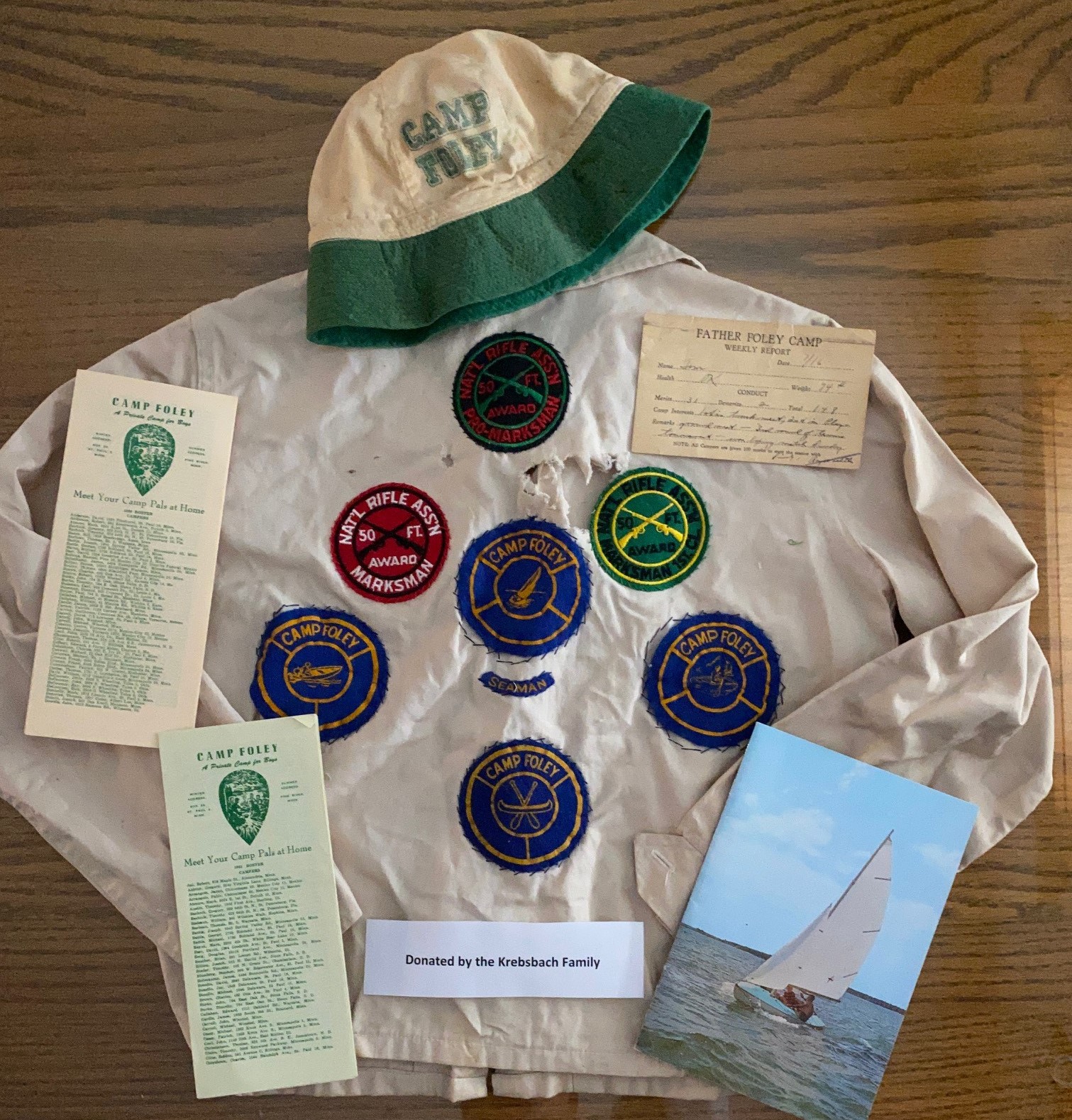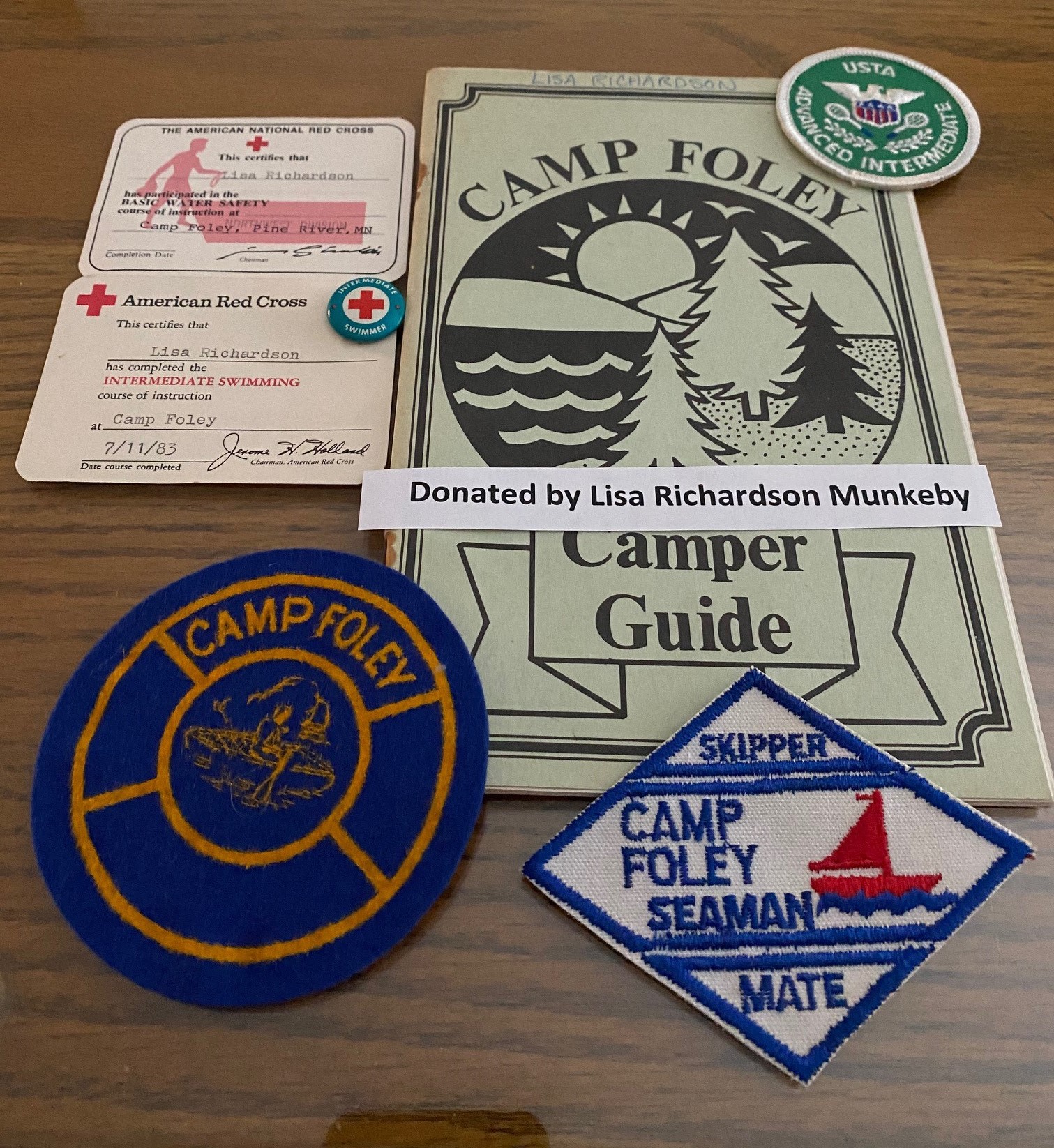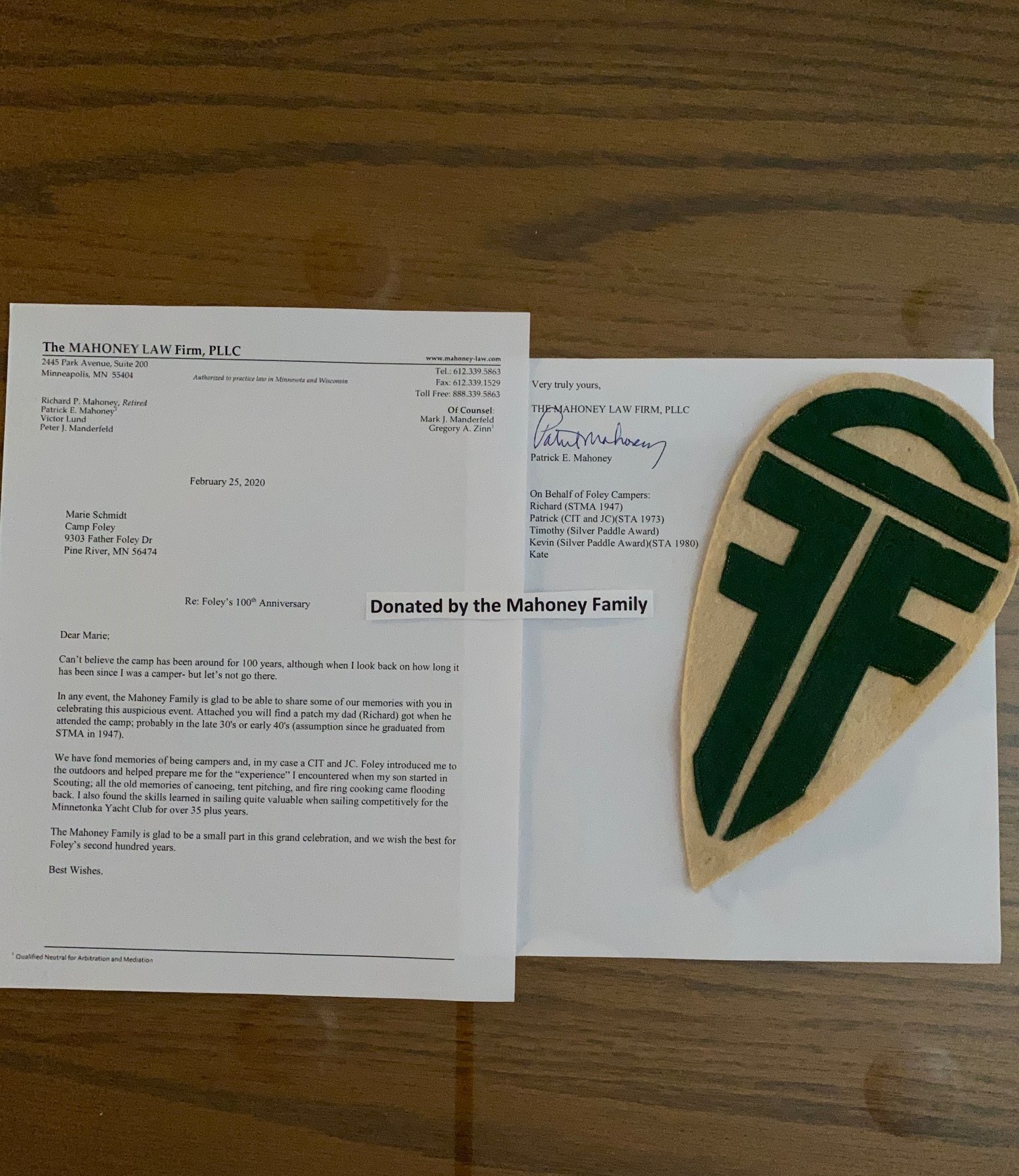 Send pictures, stories, letters that you sent home to your parents or any other Foley memories to: fun@campfoley.com or 9303 Father Foley Drive, Pine River, MN  56474.
Chaco Partnership
The great people at Chaco have an amazing program going right now to help summer camps. If you follow our Foley specific link, 25% of the proceeds from your order will go directly to Camp Foley. It is simple. Just follow this link and shop!** Below, Nike the Camp Dog models her new Chaco Collar and Krista Strobel uses her new Chaco sandals in the Boundary waters. Did you make a purchase to benefit camp? Send us a picture!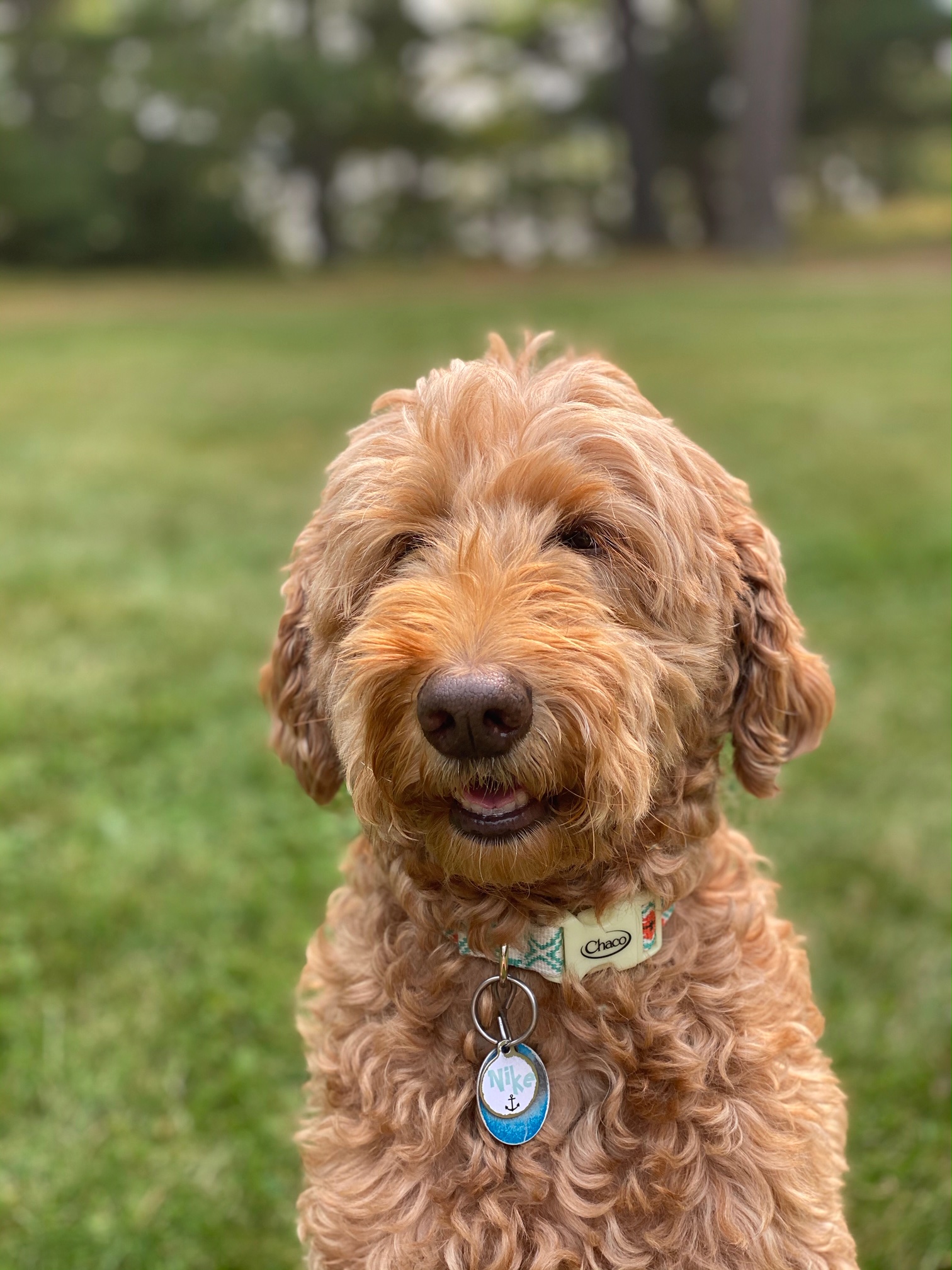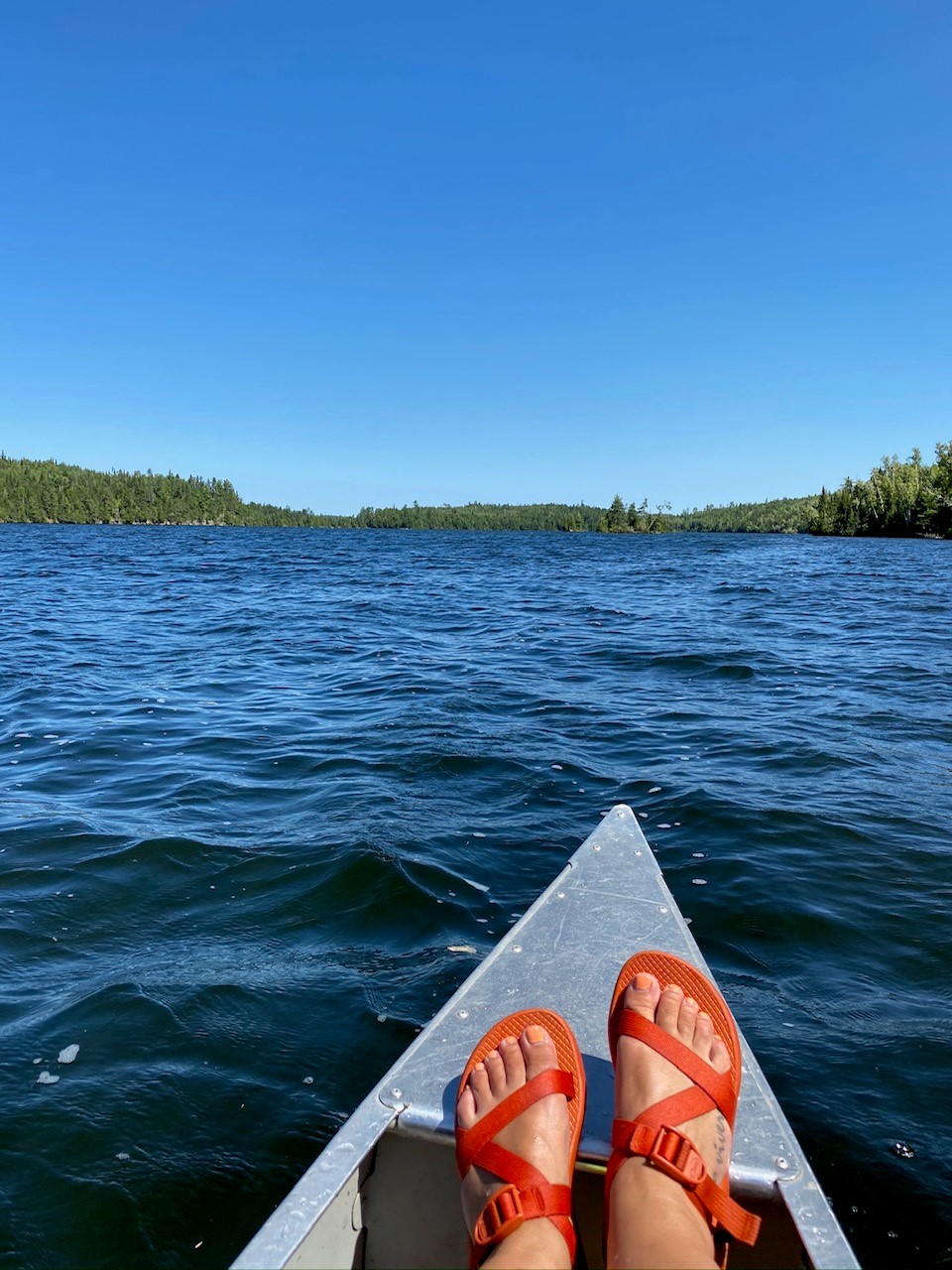 Camp Moves Me 2020
We had a great year of Camp Moves Me, with 9 participants raising over $13,000. Thank you so much to everyone that ran, biked, did yoga, studied, spent time in nature, hiked and did push ups and sit ups to raise money for the scholarship program!  You can still donate! Find out more here!
**DISCLOSURE: This post may contain affiliate links, meaning when you click the links and make a purchase, we receive a commission.