A Message From Reis and Carson
Updated 3/22/20
Message from Marie and Alli
It has been a month or so since we updated this top portion of the page. When I was reading what we wrote at the end of January, I kept nodding my head and saying, "Yep. That still applies or "Nope. Why did we think that would work!?" The roller coaster of COVID-19 and 2020-21 continues. With all the uncertainty still nipping at our heels, one thing is for 100 percent certain – we can't wait to have kids at Foley! Besides specific questions about how we are going to work towards a healthy camp, the number one question we are getting from parents, kids, staff, everyone: "Is camp still going to be fun?"
This is the second thing I will say with certainty. Every day in the office we talk about how to make something safe/healthy and then we talk about how to make it fun. Those two conversations go hand in hand. We don't have one without the other. And to be honest those two conversations have ALWAYS gone hand in hand at camp. Maybe the risk factors are different this year, but the process we take to ensure our campers have a good time while also keeping them safe is exactly the same.
We do still need more staff – know any college students??
~ Marie & Alli
Health Center and COVID Recovery Fund
Over the last couple years, we have realized that we have outgrown our current health center and with the changing physical and mental health needs of our kids, had planned to break ground on a remodel right after camp in 2020. Well, the money we have tucked away is currently being used to keep people working, taking care of our grounds and other business needs. The new building would provide more privacy and isolation rooms (better for communicable diseases in the future like COVID-19), a better medication dispersal system and storage, and space to meet the mental, emotional and social health needs of our campers. We still feel strongly that this is a priority for the health and safety of our campers and staff as we look to reopening stronger in 2021. Donate here!
Project Update – March 22, 2021: Sheetrocking is done! Walls and ceiling are painted! Floor is done and trimming is nearly done on the inside. The health center has been moving around nicely for the last couple weeks. The siding and big porch have been added to the outside of the building including stairs and a ramp.  Mike is working on some benches that will go on the outside as well!
If you are looking for a way to support camp, and have the financial means to do so, this would be the best way to contribute. Donations would not be tax deductible but greatly appreciated. Fund a toilet! Or the ventilation system! Or maybe the beds?!
Help strengthen Foley for the Future!
You can send checks made out to Camp Foley to:
9303 Father Foley Dr
Pine River, MN 56474
The Foley Museum and History: New History Discoveries
How are we making new historical discoveries?  Of course, it is digging in the attic, going through boxes of unmarked photos and memorabilia AND it is from our alumni!  We are gathering Foley photos, memorabilia, awards and honors, apparel and your memories and stories!  You can send us written memories and we can call you.
Stories: Written or Call and Tell us!
King Neptune Story '50,'51
The staff would bring all of the campers to the bank overlooking Whitefish Lake to welcome the "god of the sea".  As they chanted King Neptune would emerge from the water covered in sea weed and a trident in his hand.   Story told to Marie by Bill Klett, Staff '50, '51
The Building of the Chapel
A relative of Henry Rude as a boy was helping to haul rock for the chapel by mule up the big hill approaching camp when the mule collapsed and sadly died.  Marie has plans to have coffee with the couple to get more information.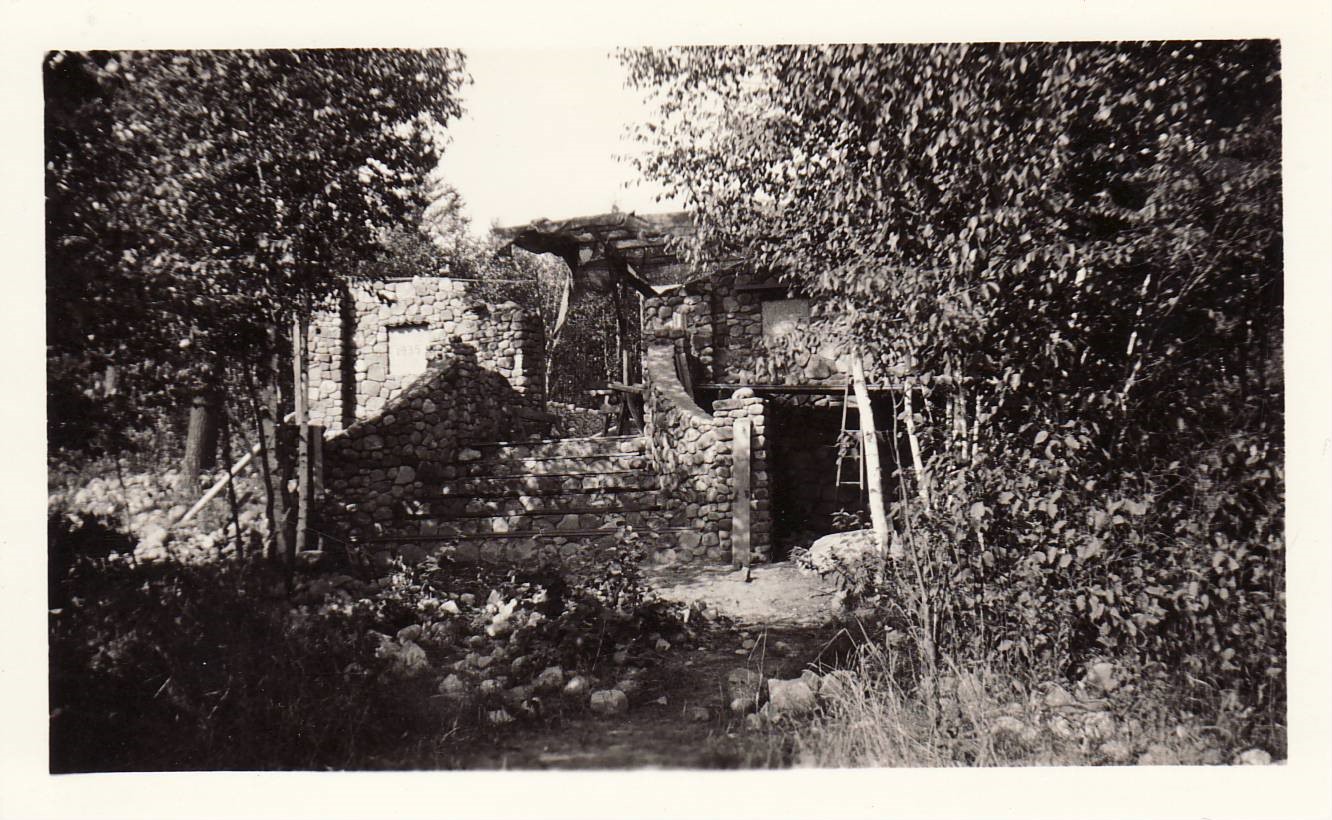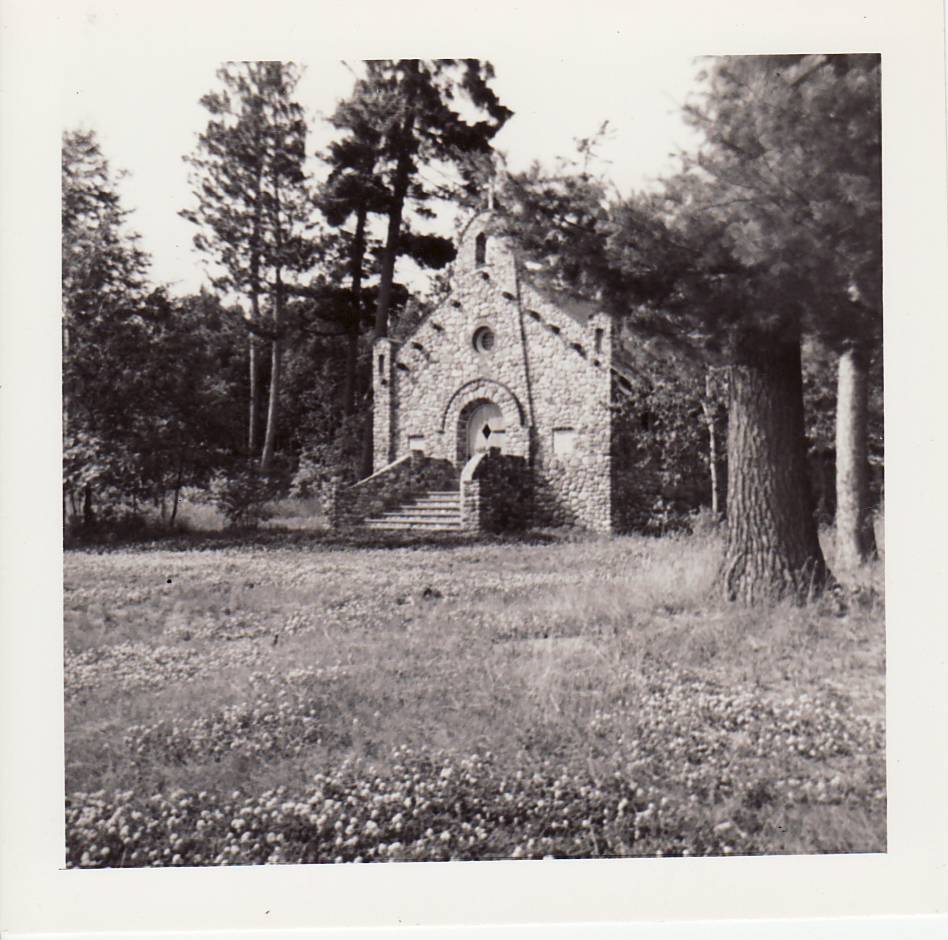 A Worm Corral Photo, '54
Who would have thought!  Can you guess where this was located?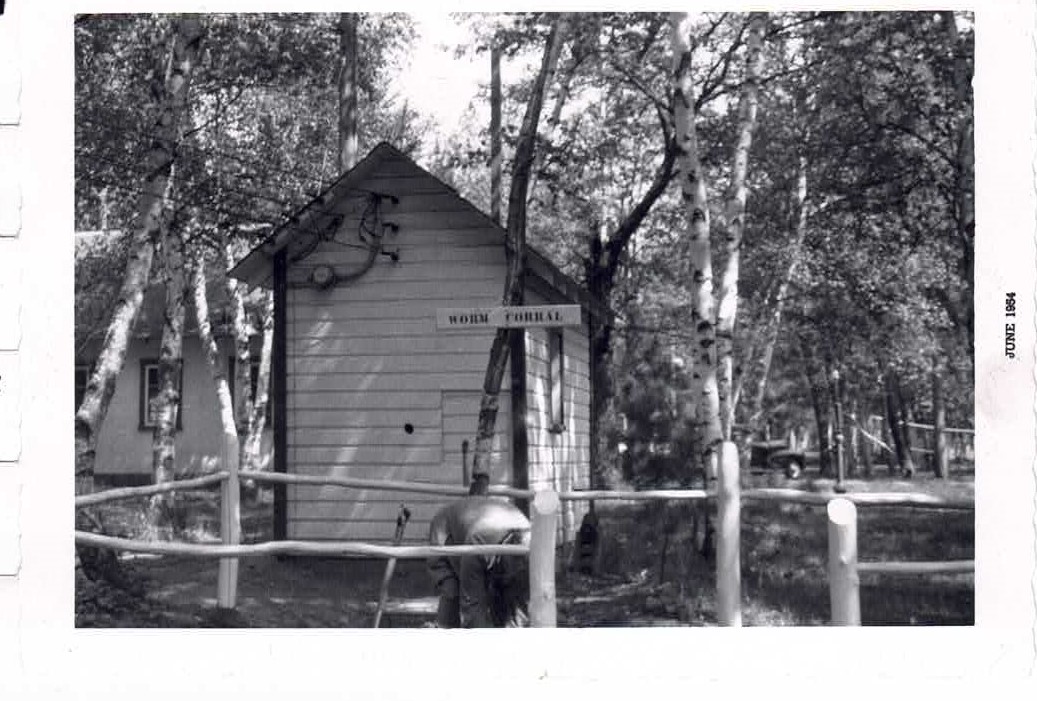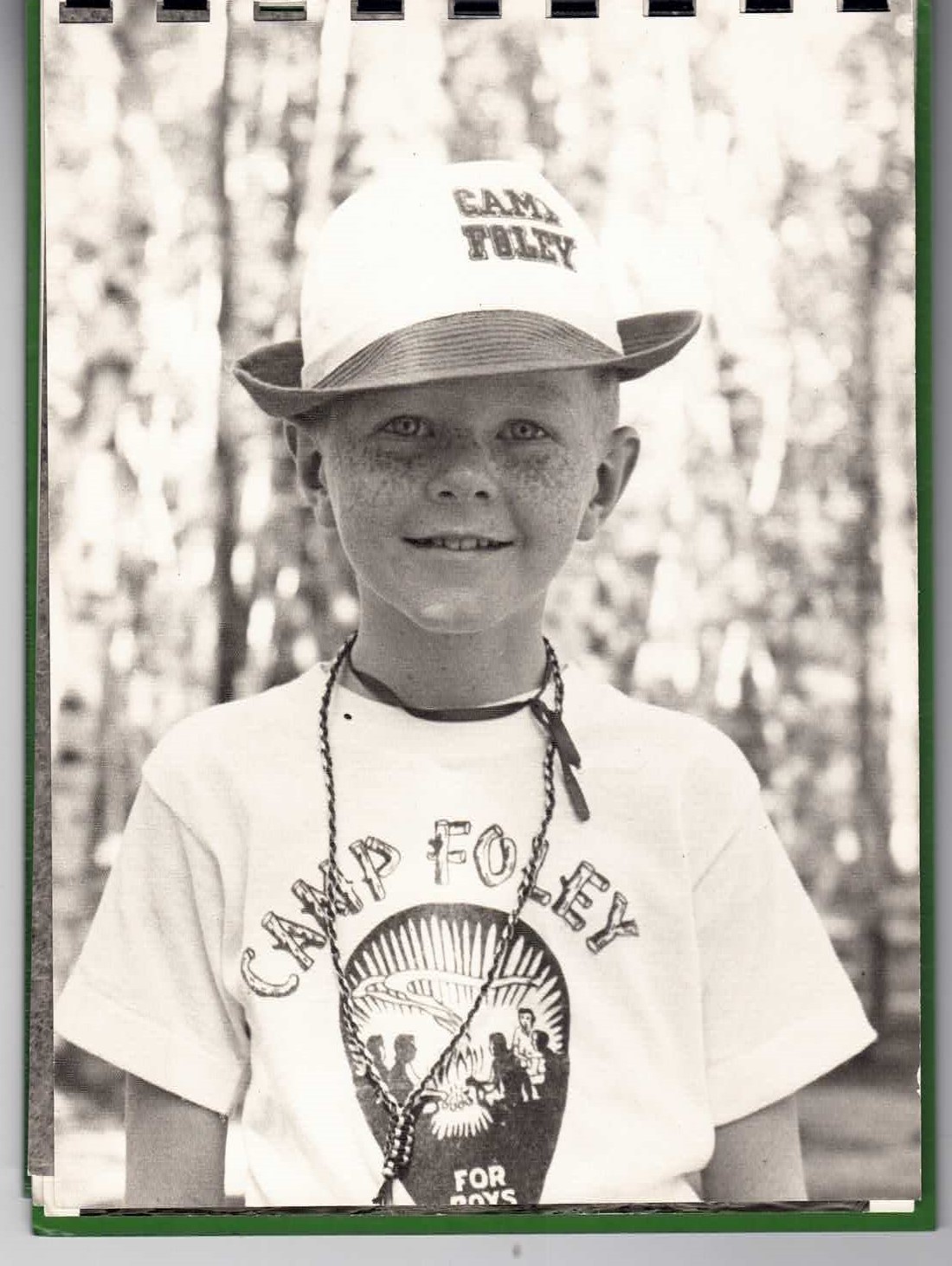 A Camper Photo that Makes One Smile, '62
George Battis, a younger camper from cabin Yakama with a bright smile, an awesome hat, a lanyard made at Crafts and the red ribbon around his neck (no longer done at Foley) indicating that he did not pass his Swim Test and a traditional Foley shirt!
Ongoing History Projects
Foley Hall Museum
Being a historian is time consuming!  Our museum has a layout plan thanks to Sarah M.  Space has been designated for the following:  Welcome Panel, Father Foley Era & Camp Chapel, Schmid Era, Food at Foley, "Living Room" (space to browse pictures, watch old camp movies, chat about memories), Activities, Recognition and Achievement, Ceiling Displays (including the Foley Apparel Quilt) and more!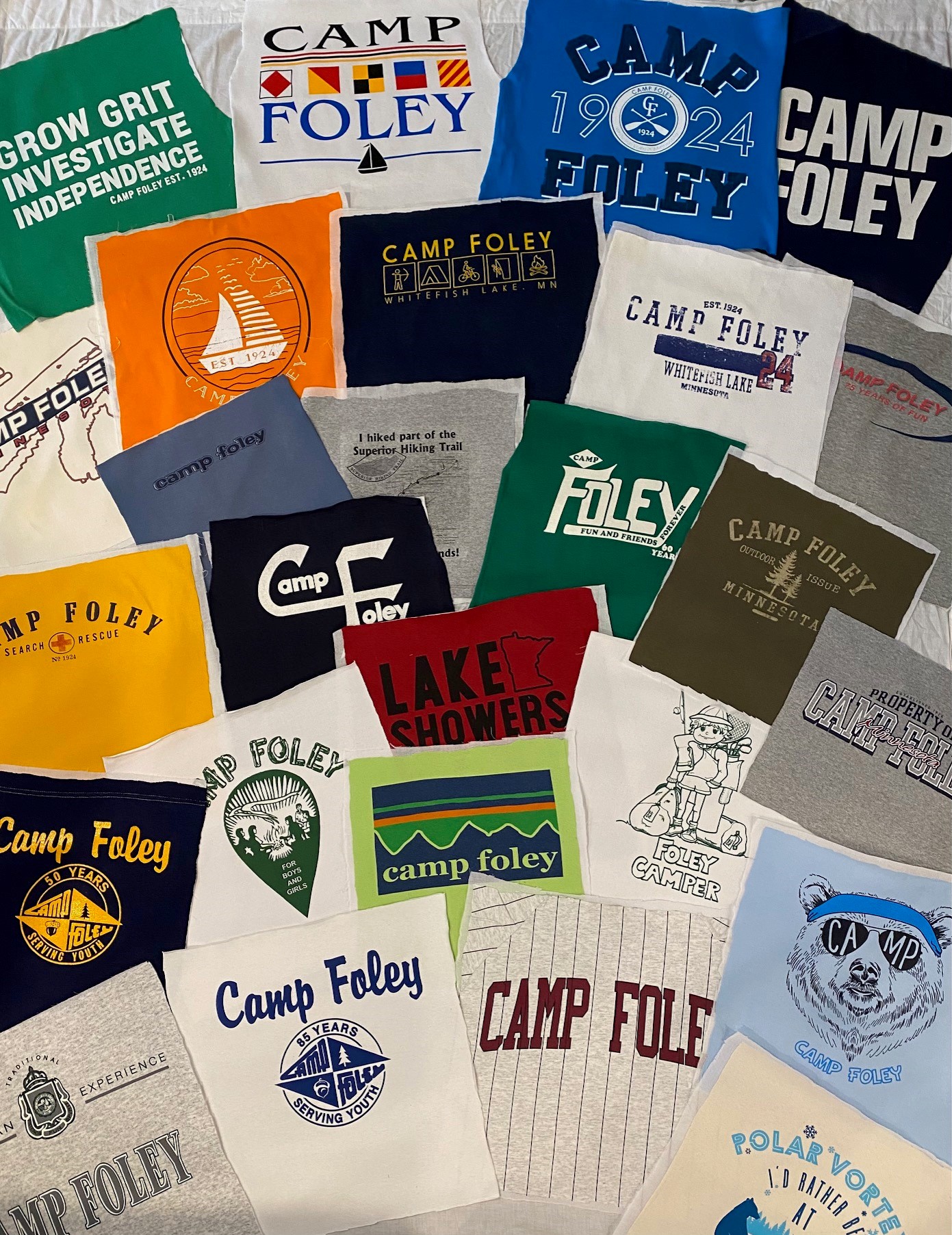 Foley Apparel Quilt
It has been so fun gathering Foley Gear from our alumni.  Thank you for all of you who have donated!  We have some items that we are hoping to display as we could not cut them. The quilt squares are ready to be sewn together. We are pretty confident we have found most of the designs over the years but if you think you have one that is rare, send us a picture, we would love to double check.
Awards, Honors and Memorabilia 
Over Foley's history, there have been various awards and honors given to our campers.  We have been gathering the actual patches, medals, and ribbons along with the criteria to display in our museum.  We are looking for items from 1924 – 1950 for sure and will be seeking specific items when we return to this project. We would love to collect all sorts of items. If you have anything you wouldn't mind either donating or lending to us, it would be great! Below left: Foley Jacket with Award patches sewn on from the 60's and bucket cap – on loan from the Krebsbach Family. Below middle: Awards and camper guide from the 80's – on loan from Lisa Richardson Munkeby. Below Right: A letter and patch from The Mahoney Family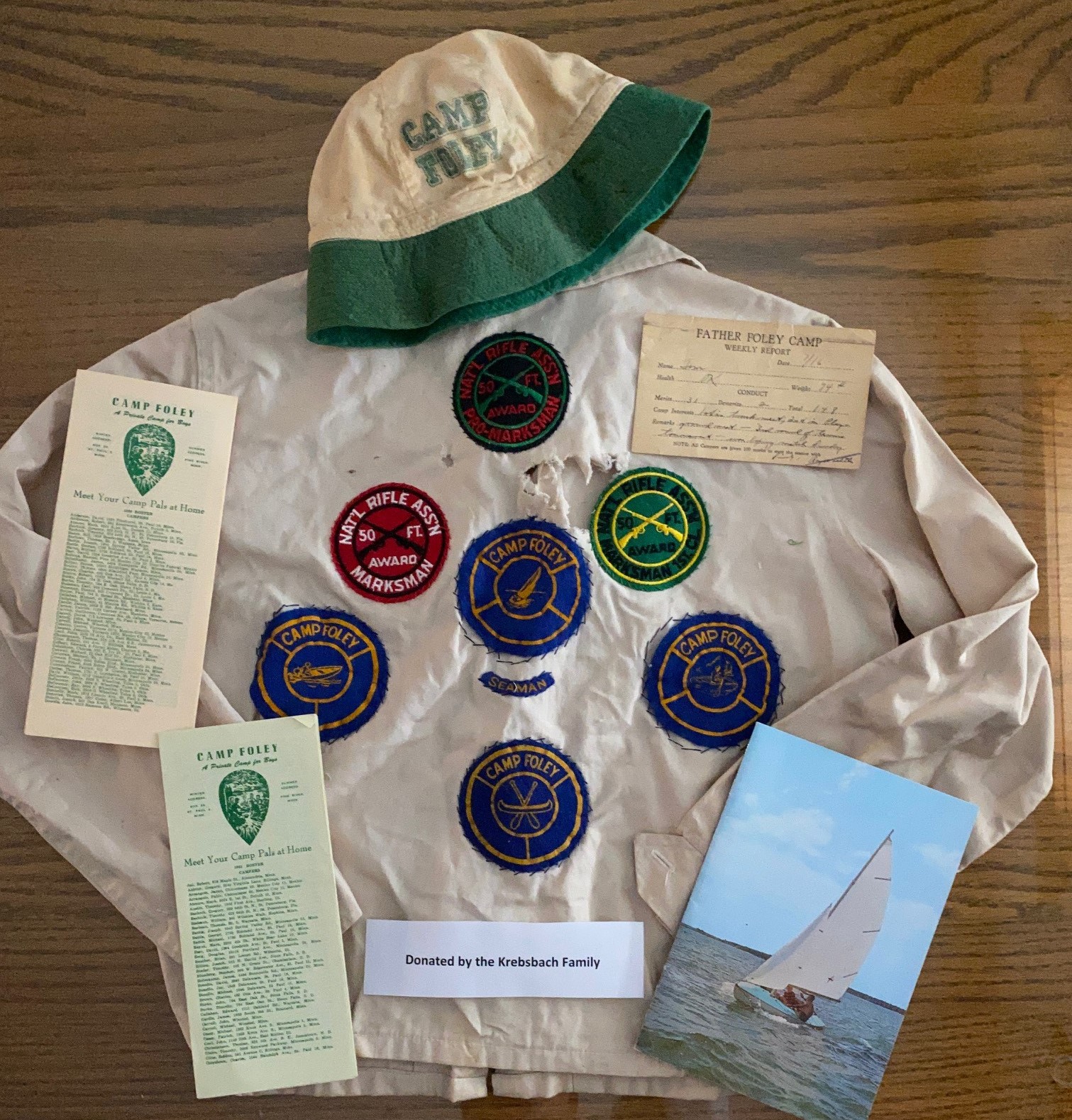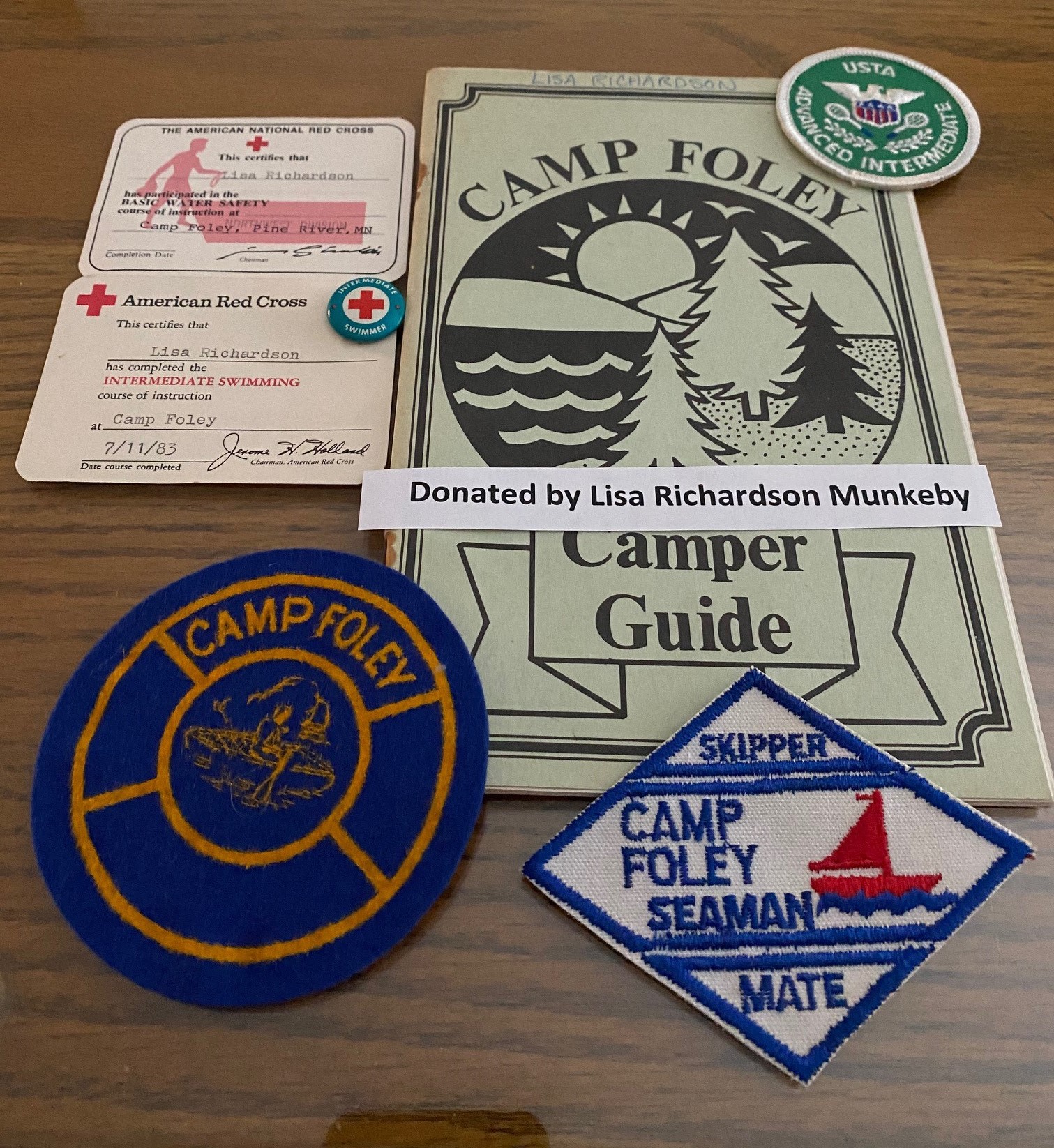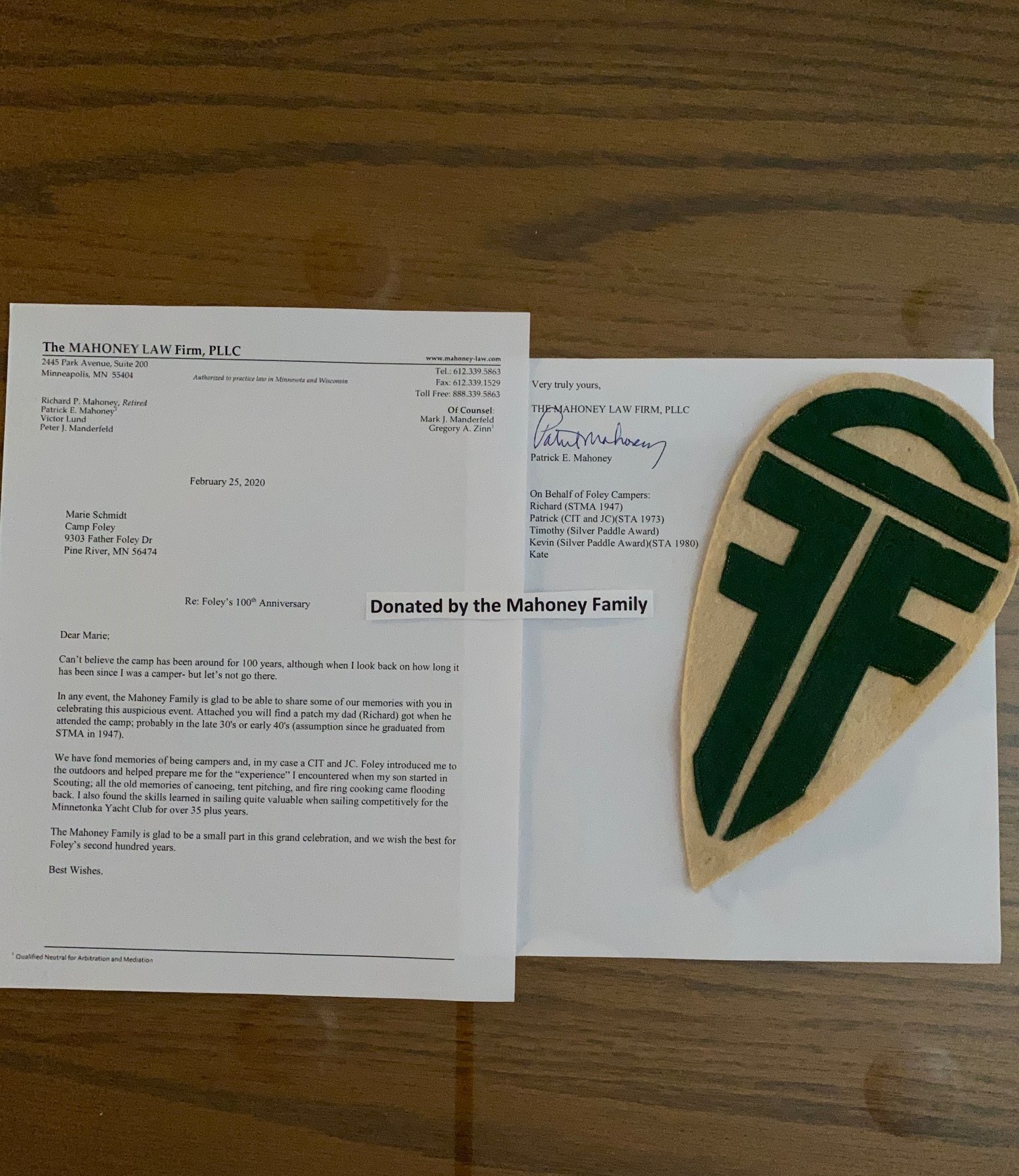 Send pictures, stories, letters that you sent home to your parents or any other Foley memories to: fun@campfoley.com or 9303 Father Foley Drive, Pine River, MN  56474.
Chaco Partnership
The great people at Chaco have an amazing program going right now to help summer camps. If you follow our Foley specific link, 25% of the proceeds from your order will go directly to Camp Foley. It is simple. Just follow this link and shop!** Below, Nike the Camp Dog models her new Chaco Collar and Krista Strobel uses her new Chaco sandals in the Boundary waters. Did you make a purchase to benefit camp? Send us a picture!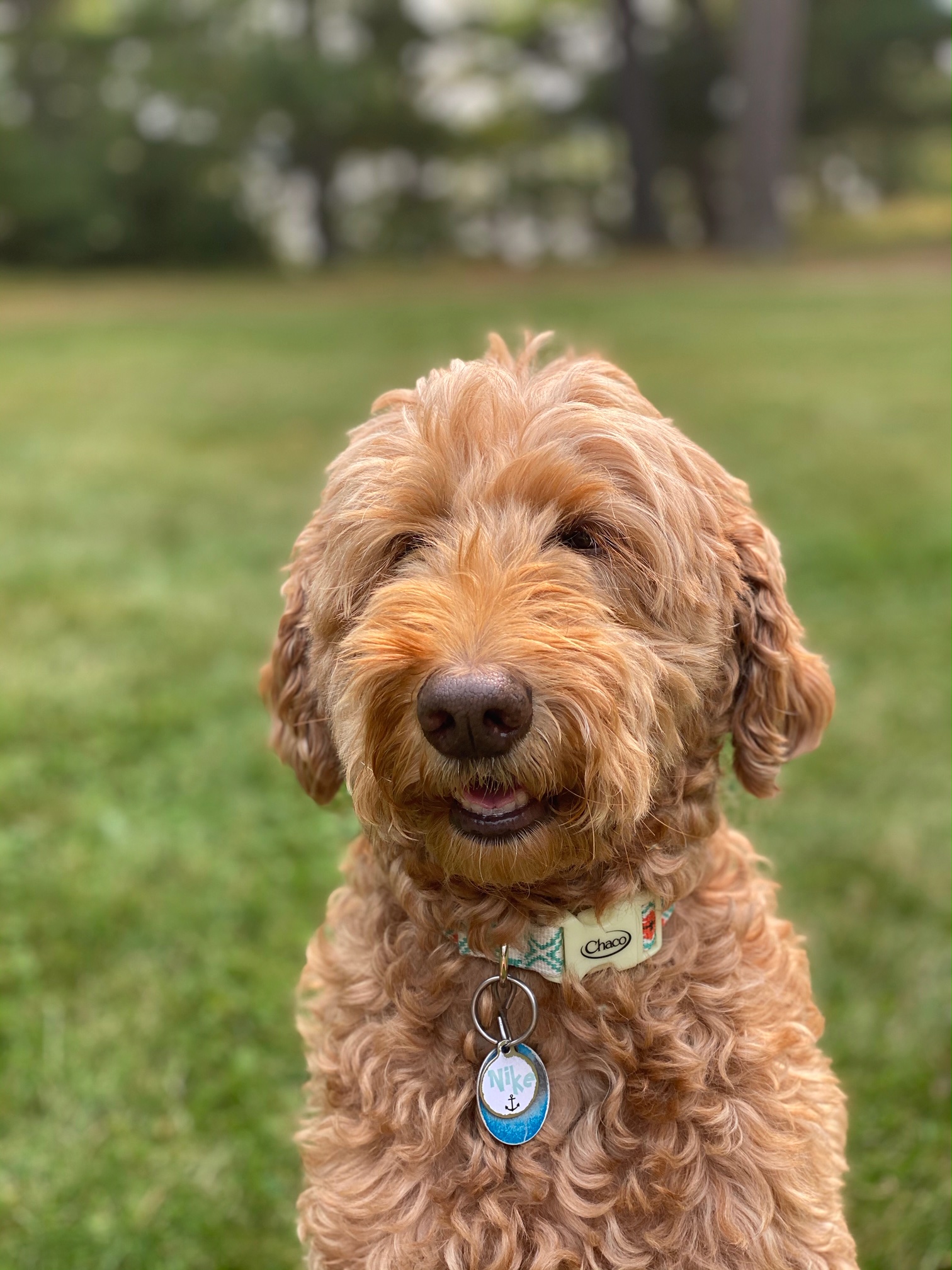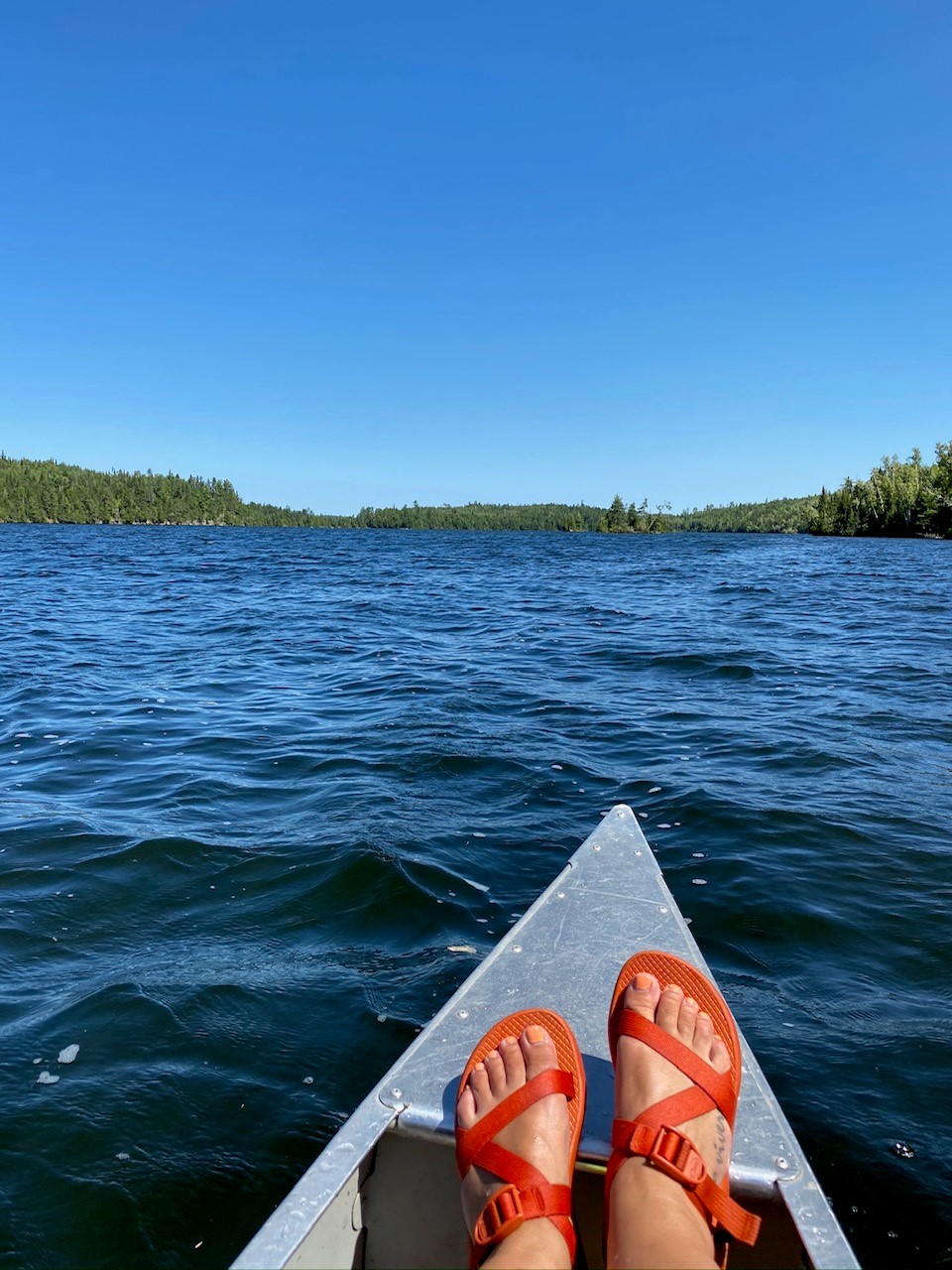 Camp Moves Me 2020
We had a great year of Camp Moves Me, with 9 participants raising over $13,000. Thank you so much to everyone that ran, biked, did yoga, studied, spent time in nature, hiked and did push ups and sit ups to raise money for the scholarship program!  You can still donate! Find out more here!
**DISCLOSURE: This post may contain affiliate links, meaning when you click the links and make a purchase, we receive a commission.