News and Ideas from Camp Foley
With contributions by Campers, Staff, Directors, Parents and outside sources, the Rattlin' Blog is your one-stop-shop for all things camp. See videos, read what kids have to say about camp and find out about camp culture.


When you finally arrive for the first day of camp, it is so thrilling to see the place you love or will come to love all put together and ready for a session of fun. The docks are all in, the...
Most Recent Posts from Camp Foley:

When you finally arrive for the first day of camp, it is so thrilling to see the place you love or will come to love all put together and ready for a session of fun. The docks are all in, the...

We are staring a brand-new series called "New Camper Series". We will be publishing blogs twice a month that will focus on topics geared specifically towards our new camper families. Today,...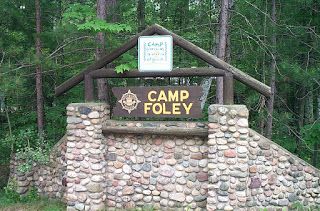 Want to talk about Disney? Good, me too! Most of us are familiar with those classic Disney Channel movies that played throughout the early 2000s. Musicals became the popular thing across disney...

We were wondering... what are campers most excited to get to do this summer?... so we asked them! We have been meeting with campers in virtual meet ups and zoom personal talks to get a sense of how...

Happy St. Patrick's Day! (Well Yesterday was St. Patrick's Day But Whatever!) Time to don green clothes and lots of shamrocks and celebrate this fun Irish holiday. This day is named after the patron...

What's up parents! Still wondering if an overnight camp is right for your kid? This summer is looking better and better, and after a year of isolation and virtual learning, camp is the perfect...

 2 weeks ago it was -11 outside!!!! Even if you are Minnesota native through and through that is COLD! While the cold has some great benefits, like pretty snow and getting to walk on frozen lakes,...

We are continuing with our History blogs, and this week we are taking a look at the History of Fencing! Fencing has been an activity at Camp Foley since 1959. It doesn't go as far back as...

We are very excited for our upcoming 2021 summer! As many of you know, this summer we are switching to 3 week sessions. We decided to do this for a multitude of reasons... Camps that offer longer...

 This Sunday is Valentine's Day! We here at Foley are always full of love for our campers, parents, alumni, and for Camp Foley itself! We think it is very important to take the time to show your...

The thirty minutes after fourth period are some of the most exciting for campers each day. Not only do they get to have candy or ice cream (canteen), but mail from home is handed out. All...

Today is International Lego day!  We here at Camp Foley love Legos! And in 2016 we made this love permanent by creating a whole building designed for using and storing Legos! So today I'd like to...

The American Camp Association is a community of camp professionals dedicated to enriching the lives of children through the camp experience. ACA Accreditation means that Camp Foley voluntarily...

Hey Parents! It may only be October, but school (online or otherwise) will be over before you know it... Soon you'll be packing the kids up to come to Camp Foley! While everyone is super excited...

Either Yogi or Kayzak... How much do you love camp's dogs, Nike and Norm? I mean... they are playful, adorable and always provide some entertainment when they are around. Not surprisingly, Nike and...

Dear Father Foley, I often walk around camp and think about what your reaction would be to the Camp Foley that exists today. Are you surprised little Marie Schmid, who would make you your...

Christmas is next week! To celebrate the Holiday and add extra cheer to your home this season, here are 4 awesome and easy Do-it-Yourself decorations you can make with campers right at home! ...

This week we are looking at the History of Camp Foley's name and how it has changed over the years...   Did you know that our beloved Camp Foley was not always called that? Camp has had a few...

One of the most anticipated events of each session is the Grand Dance Festival. This is a night of dancing, singing, and an ice cream treat for all of our campers to enjoy one of the final days to...

Happy Thanksgiving from all of us here at Camp Foley! I thought it might be fun to be grateful this year is almost over. Today in this blog we are going to focus on things we are grateful for when...

Here we are with another installment of our History Blogs! This one will focus on the history surrounding Archery as an activity here at Camp Foley! Archery has been around since the beginning of...

The University sponsored the event This summer our LITs (Leaders in Training) participated in The Maverick Social Justice Camp. This camp is part of Minnesota State University Mankato programming...

We have come to the end of October and that means an end to our fundraising campaign Camp Moves Me! This year we raised $12,790 , which is so amazing!! We know this year has been anything but...

 Halloween is in 2 days!!! I always think it is such a shame that the real Halloween doesn't happen during camp. It has everything, hilarious costumes, yummy candy (aka canteen!), and a night full...
It's Never Too Late or Too Early to Plan for Summer!
We're so excited to meet you, and we'd love to answer any questions you have about Camp Foley and how much fun we'll have this summer!