Treehouses are a special night that two and four-week campers have the chance to experience. Each treehouse is located in the woods across the road from the center of camp. Cabin groups hike, cook over an open fire, play games, and explore the nature surrounding the camp. Campers tend to have a favorite: either Upper or Lower. Though there are differences between each, Upper and Lower both have qualities that give you the ultimate outdoor experience!
Upper Treehouses is deep in the woods, more secluded from camp, and gives you the chance to feel truly out in nature. Take a night hike at Upper Treehouses and you'll have access to the wolf trail and can easily connect to other trails on the property – it's a great chance to see wildlife! Sammie B. mentioned that it "has more raspberries and it actually feels like you're away from camp." With plenty of trees surrounding this area, it's perfect for testing your night senses such as sight and smell. Lean back in your camp chair and gaze upwards to see a sky full of stars through the treetops. Campers can sit comfortably around the fire bonding over all the things that happen around camp.

Lower Treehouses, though a relatively short walk from camp, is a great place to feel secluded from camp, but still close. The large field adjacent to the treehouses is the optimal place for kick-the-can and various other large field games. On a clear night, you can lay in the grass with cabin mates to see constellations – try to see if you can catch a glimpse of a shooting star! One counselor, Ana R. commented, "the Lower Treehouse has a big deck which is great for dance parties with your cabin." The deck is also perfect for sitting as a group telling stories or playing games such as mafia. Lower Treehouses also has access to trails and can be a prime spot for a night hike.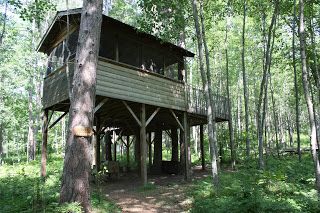 So – who's to say which one is better? Both are equally awesome and bring a different feel to your experience. Regardless of your bend, treehouse night provides endless possibilities to make it one of the most memorable nights for you and your cabin mates during your time at Camp Foley!