The color war!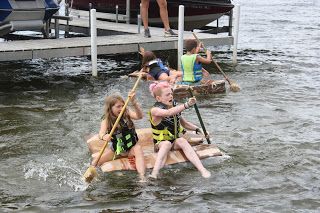 Camper racing boats they made themselves!
2019 was the first year we had the Alpha Games!
We divided the camp into four teams, red, blue, green, and yellow. The campers competed in multiple challenges, including building boats out of cardboard and milk cartons, ending in an epic race on Whitefish Lake. Each session a winning team is announced and NEW this year the winning team of each session will have a trophy adorned in their team colors to honor their accomplishment. These trophies are displayed on top of the piano in the dining hall for all to see. After our 2020 alpha games, new winners for each session will be announced and that team will have the opportunity to decorate their trophy in their team color. In 2019 we had the battle of whitefish lake, but campers should be prepared for a whole new challenge in 2020!

New Alpha Game Trophies!
Campers were all assigned to one of the four-color teams last summer, and this team placement will stay with the camper for the rest of their time here at Foley. That's right! If a camper was on the blue team last year, they are on the blue team every year! This tradition will allow teams to develop team dynamics that will last a long time. This gives campers the opportunity to deck out in their team colors every year because they will know exactly what color to stock up on. Songs and cheers will be passed down through the ranks and become a part of the team as they are performed throughout the coming years. We are very excited to see how the Alpha Games develop over many summers here at Camp Foley.