You may have seen Jordan and Treff on your social media feeds taking the Midwest by storm! This Foley duo traveled to Dubuque, IA, Des Moines, IA, Kansas City, KS, St. Louis, MO, Chicago, IL, and then trekked all the way back to Pine River, MN. These two visited campers, families, and had a great time along the way! Read more about their journey below.

In Dubuque, Foley held a Meet & Greet at the Dubuque Golf and Country Club hosted by the Igo Family. Current and prospective camper families attended amidst the snowy weather to visit with friends from camp!
While Treff and Jordan were on the way to Kansas, Alli made the trip to Des Moines, IA for a Meet and Greet hosted by the Mead Family. Thank you for organizing and hosting a successful event!
The snowy trip continued as Jordan and Treff made their way to Kansas City. They met with three prospective families and can't wait to return and continue to build the KC Foley Family base. The trip was topped off with the best BBQ Kansas City has to offer – thank you to everyone who gave suggestions!
After KC, they drove to St. Louis for a Summer Opportunities Fair and Pizza Party. Treff, Jordan, and some current campers (thanks Genevieve, Joe, and Louie!) spread the word about Foley to interested families at the Summer Opportunities Fair held at John Burroughs School. An impressive group made it to the Pizza Party; there was plenty to eat, lots to chat about, and everyone got a little more excited for summer!! We even had a future camper in the mix. (see pic below)



Next on the list was Chicago. Another snowstorm and the impending Polar Vortex threatened the trip, but that didn't stop their plans. They met with families, prospective campers, and reconnected with an awesome group of Foley Alumni! Thank you to the Witzel family for opening your home.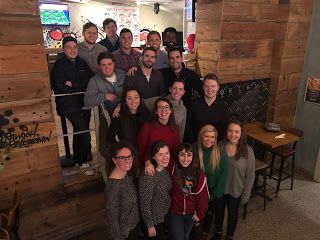 Our final event, the Minneapolis Pizza Party, was scheduled for Tuesday, Jan 29th, but the Polar Vortex gave us record lows that were too dangerous to risk. Not to worry – we've rescheduled the event for February 13th from 6:00 PM – 8:00 PM at Ridgedale Library (Robert Rohlf Room) because we couldn't miss seeing so many of our camp friends and family. To RSVP call us at 218-543-6161, email Billy at billy@campfoley.com or mark "Going" to the event on Facebook, and let us know we'll see you there!
The trip was an amazing opportunity to see friends we normally only meet up with in the summer, and we LOVED getting to hang with so many of you. Thank you to everyone who suggested songs to make our bumpin' playlist that got us through multiple states with long drives! A BIG  thank you goes to everyone who opened their homes to Meet and Greets, visits and/or came out to our events –we can't wait for next summer.