We've said it before, and we'll say it again, a camp is a magical place. I recently had the opportunity to spend time with 4th sessions' Anchor Award recipient, Louis E., in his home city of St. Louis and chatted with him about what Camp Foley means to him.


Now that you're away from camp, what is the one spot at camp you miss most? What do you like most about this spot? 
Louis: I miss the loft where LIT meetings were held. I made some amazing friends that I keep in touch with every day now. Shout out to Avery O.!

If you were helping a new camper pack for camp, what is the one (or two or three) item(s) you can't live without? 
L: Fancy clothes for CDO (Cute Dinner Outfit), which is a wolf tradition. Follow the packing list so you are well prepared. A specific pair of shoes & clothes that you can get dirty!
Why do you prefer to come for 4 weeks over 2 weeks?
L: I go for 4 weeks because I get to meet so many more people, enjoy life at camp, and overall get a lot closer with the staff.
You have probably heard rumors about what is in the Wheelhouse (staff lounge), but what do you hope they have in there by the time you are a counselor? 
L: I really hope that there is an elevator that goes to a secret bowling alley under camp with an arcade. Louis has goals to someday be a counselor and truly find out the wonders the Wheelhouse holds.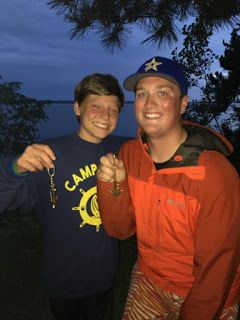 What do you want the world to know about Camp Foley? 
L: You will get to express yourself and make life-lasting friendships. If there is any place I could spend my life it would be Camp Foley. You can't make this stuff up, folks. 


What camp accomplishment are you most proud of, and what does this mean to you? 
L: I am so proud of winning the anchor and it means the world to me. I keep it with me every day.
Outside of camp, you can find Louis playing football and lacrosse. As you can infer from our chat, his favorite thing to do is hang out with friends and he loves meeting new people. Thanks for taking the time to chat, Louis!
Do you know someone who wants to be a camper like Louis? Get them to  
Register TODAY
!