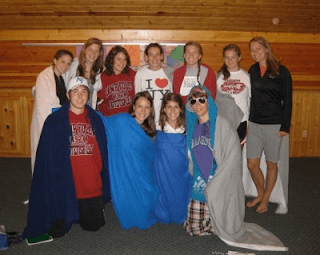 2009 CITs and LIT 3s.
A long time ago when I decided to join the LIT program at camp I had no idea how much it would change the rest of my life.  It was a great way to spend time with my friends and be involved at Foley. In my last year of camp in 2009, I began to really enjoy my work as a LIT.  I had always been a bit shy, but I loved the LIT program because every idea was taken seriously and we all enjoyed working as a team.  I loved planning and working with all the campers.
One thing we worked especially hard on was our campfire.  We decided that half of us would be aliens and the other half would be humans.  The aliens landed at camp and needed help adjusting to life at Foley.  We came together and shared our different cultures, which included the aliens showing the humans the food that we loved.  This consisted of ketchup, yogurt, salsa, cheese, jam, mustard, and peanut butter.  It was the worst thing I've ever eaten.  But the CITs and LITs all came together to put on a show and have fun with the other campers; we also all enjoyed watching Evan Oncay sweat all his green paint off over the campfire.

3rd Session CIT/LIT Campfire in 2009.
This was a memory I kept with me when my days as a camper ended and my countdown quickly started for the summer of 2012 when I could finally come back to camp as a counselor.  As I was waiting to come back to camp I realized just how much I enjoyed all of my LIT work, and how much fun it was helping the younger campers.  I thought about this during college application time and I began thinking how thankful I was that I did this program because one day I realized that I wanted to be a teacher.
Foley taught me the skills to help lead a crowd, to assist a counselor in a canoeing class, to help a camper that was lost, that we all need to clean up after ourselves, that the clean plate club is the best club to be in, and that I enjoyed watching a kid learn from something I helped teach.Foley gave me the confidence to try what I wanted, and here I am in my junior year of college as an education major because camp showed me I can go after my dreams. 
-Rachel Gans