Guest blogger and 2013 counselor, Molly McGuire put together a list of things she wishes she had she'd done as a camper. Molly's list is a great challenge for all of our campers this summer! 
The camp is a pretty spectacular place, and I think we can all agree on that. But what makes camp so amazing? Is it the famous soda bread on Sundays or the sailing on Whitefish Lake? Or is it the nights spent giggling with your cabinmates or hitting a bull's-eye in Archery? When I think of what makes camp great, I think of all of the friends I made and the experiences I had. 2013 will be my eleventh summer at Foley and my second as a staff member. As I prepare to head up to paradise for the summer, I've been thinking about all of the things I wish I'd done while I was a camper. So here goes…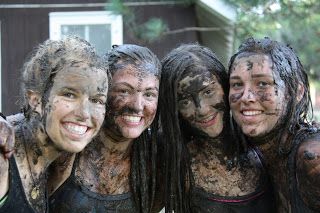 Check out how fun getting dirty at the Muck Pond looks!
Try every activity! It seems silly, but break out of your comfort zone and try something new! Whether it's you're the tenth year or your first, take a class you've always wanted to take! Try shooting trap, wakeboarding, or finally getting to the top of the climbing wall.

  

Go on a trip! Talk about stepping out of your comfort zone! Take a three-day trip with your cabin or pack group! Trips create lasting bonds and endless jokes and songs that will last well beyond the trip.

Play paintball (and try not to scream!) Paintball is a blast; don't let inhibitions get in the way! Something about paintball always intimidated me, but once I tried it, I couldn't believe how fun it was. It is such a rush!

Adventure to the Muck Pond! It took me ten years into my Foley career to experience the wonders of the Muck Pond. There is something about it that just screams summer camp. Where else in the world could you do something like that with your best friends?

Meet everyone in camp! This one sounds a little cheesy but it's the truth. I challenge every camper to make a new friend each day. Sometimes we get wrapped up in with cabinmates or friends from last year. This summer, make it a goal to get to know everyone in the camp community.
-Molly McGuire
So there you go campers. How many of those challenges do you think you can accomplish this summer at Foley? Hopefully at least one of them seems doable!