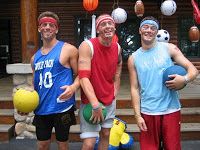 Dan Lamm (left) as a counselor
in 2005.
This is one of those memories that I will never forget from camp. It is still as clear as it was the day it happened. I was in Dan Lamm's, or as some of you may know him Dan the Man, skiing class back in 2005. We decided to break out the boom to try barefooting. I had no idea what I was doing and it did not help that it was a fairly windy day out.

Evan as a camper in 2005.
When it was my turn to go, I was a little nervous but figured I could get it done. If you have not seen someone barefoot off the boom before, you start out in a superman position holding on to the boom. You then swing your legs around to the front so you can barefoot on the side of the boat. As the boat started to drag me through the water, I realized this was not going to be that easy.
All of a sudden we were going pretty fast and I was still just being dragged in the superman position. I was not strong enough to pull my legs out in front of me, so there I was just being dragged by the side of the boat. Bouncing off every wave that we hit. But here is where the unthinkable happened.

Evan waterskiing in 2005. This is not the barefooting
incident. Thankfully.
One second my swimsuit was on¸ the next it was gone. As soon as I realized that my swimsuit had come off, I let go of the boom. I must not have tied my suit tight enough because when I hit one wave at the wrong angle, the lake took my suit. There I sat in the water, with just a lifejacket. When I told Dan what had happened, we were both laughing and he tossed me my towel.
But it was not my towel. It belonged to the little fox girl who Dan had spotting for him in the boat. The towels looks very similar however I did not realize this until I was already in the boat wrapped up in the towel. Once we realized that I had the wrong towel, the little girl could not understand why she could not have her towel; English was not her first language. Me and Dan tried to explain, still laughing, why I could not take off the towel until we got back.
| | |
| --- | --- |
| | |
| Evan as a counselor in 2012 with cabin Shingwako. | |
The whole time Dan, the rest of the campers in our group, and I were laughing about the incident. We eventually made it back, and I was able to get a new pair of shorts back at my cabin. That ended up being Dan's favorite memory of the session when it came time for closing campfire, which I was pretty proud of at the time. I will never forget that day. It is just one of the many memories I have of camp, and they always brighten my day every time they pop into my head. Whitefish still have my swimsuit down there somewhere.

-Evan Oncay