A Family Tradition

Kronschnabel camp clan in 2008!
Clockwise from left: Courtney, Emilia, Matt, Nick and Tory.
The whole reason I got involved with Camp Foley was because of my dad, Peter Kronschnabel. In 1967, at the age of seven, he went camping for his very first summer. He probably didn't realize the tradition he was starting with our family when he walked into Mic Mac on arrival day. Since he was a camper, there have been 18 family members that have either been a camper, counselor, or nurse at Camp Foley. I have had the pleasure of going to camp with my brothers, Matt and Nick, as well as my cousins, Sara, Emilia, and Tory.
While going to camp with my brothers was always a treat,
being at camp with Emilia has been an experience I'll never forget. 
Ever since our first year together in 1999, we have shared more than just a last name. During our
10 years
as campers, we shared three cabins, one bunk, and countless memories together.

Emilia and Courtney getting on the camp bus in 1999!
One of my favorite camper memories with Emilia has to be when she helped me write my Bridge Crossing Essay. She had written hers a year earlier than me, and I thought hers was the greatest, so I just HAD to get her advice on what to write about. She sat with me for a whole rest period and helped me write what seemed like the longest, most important essay I would ever write. At the age of 11, Emilia helped me realize camp is about more than just learning how to sail or knit a scarf. It's learning about myself and what kind of qualities I want to carry with me. While this essay definitely wasn't the longest I've written…it still may be the most important.
Our shenanigans didn't stop when our camper days were over. Last summer we spent our first summer as counselors together. It was the first year in our Camp Foley history that we weren't in the same age group doing the same activities. She is a Fox counselor and me a Wolf counselor, we had different schedules and events to plan/go to. We learned to cherish our time together at the Marina.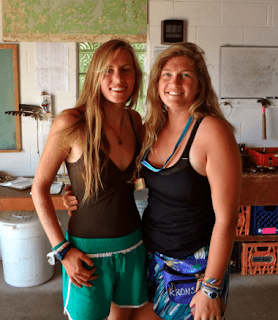 Emilia and Courtney, part of the 2012 Marina staff.
Ever since we were little, our favorite activities took place at the waterfront.
I loved
sailing
and she (for reasons that are still a mystery to me…) loved
windsurfing
. Our love for the marina did not come out of anywhere. The rich tradition that my dad and uncles laid down started way before Emilia and my camper days had even begun. Hearing their stories about the good 'ole days at the Marina is what really sparked our interest and kept us wanting more. While their stories are pretty top-notch, I'd say Emilia and I have created some quality ones of our own in 2012.
The site of Emilia hundreds of feet from shore stranded in a safety boat that she was unable to start will always make me chuckle.
I can honestly say that without my cousin Emilia, a camp for me would not be the same. We share so many wonderful memories at the one place we can both call home. I am truly looking forward to spending another glorious summer with her at Camp Foley.
Written by Courtney Kronschnabel.