Symi and Annie at the concert.
Symi B. was in St. Louis with her family and was desperately trying to meet up with Annie E! (Both girls attend Camp Foley's Third and Fourth Session.) All hope appeared lost as snow and Annie's school schedule were proving difficult to schedule around. Symi's family headed into the city for a surprise concert, Owl City. They arrived a bit late, after the opening act when someone in the crowd shouted "SYMI!" That's right, it was none other than Annie! Despite not being able to plan a time to meet up, the girls ended up being at the same concert in St. Louis.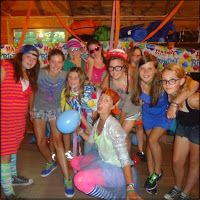 Cabin Menominee in 2012
(Annie far left,Symi far right)
We ask ourselves, is there anything better than a reunion with camp friends? It doesn't matter if it's a big group or a small group, there is always a lot of fun to be had! Why? The answer is simple: Camp friends are the best! Even after you've grown out of camp, reunions with camp friends are the best kinds. They always involve a lot of laughter as you remember summers past and crazy times as you create new memories with good friends.
When was the last time you met up with camp friends? If you've had any Foley reunions lately (big or small!) make sure to share them with us. Email us: Tell us what you did and share a picture!