OLS: Cooking over a fire in 1993
For this edition of Throwback Thursday, we're going way back (20 years!) to summer 1993. After picking through some old newsletters, I found some pretty interesting things…
-In 1993 Outdoor Learning Skills "OLS" was introduced as an activity at Camp Foley. Now known as "Campcraft, "OLS" was introduced to teach campers important tripping skills including fire building, cooking and baking over a campfire, safety and first aid, knifesmanship, putting up tents, and how to have fun exploring our wilderness. There was even an OLS pledge:
 
The OLS Pledge
To be among the animals and plants,
And in providing for my comfort and safety,
To respect my natural neighbors and their homes;
To step carefully and travel gently,
Finding friendship and beauty in my natural world.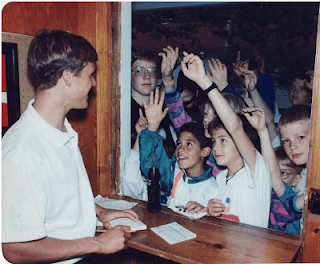 Coke bottle a the boys canteen in 1993
-Camp Foley got a bike trailer in 1993, which meant bike trips could go out. Camp cleverly called these trips, "Bikepacking."
-If you got a pop (or soda) at the canteen you received it in a glass bottle, which you had to return to crates outside the canteen after you finished. Also, in 1993, girls were still getting their canteen between Pocahontas and Matoaka!
-Campers and staff used 864 Hershey bars for s'mores in 1993. Do you think we can eat more or less in 2013?
-Camp Foley played a four-hour baseball game against Camp Lincoln. The newsletter leads me to believe we lost…

Sailing on the P'zzazz in 1993
-The 1993 Closing Banquet was nautical themed. Campers were encouraged to bring cruise clothes or sailor outfits. Campers joined in the fun of Foley's version of the "Love Boat" and/or "Gilligan's Island." There were five other special all camp theme days: Pirate, Sherlock Holmes, Fourth of July, Paul Bunyan, and Gold Diggers.
 -Foley campers competed and did well in a regatta on the lake sponsored by the Whitefish Chain Yacht Club.
 Were you a camper in 1993? Or, were you a camper when Foley still had glass bottles at the canteen, when OLS was still activity, or when girl's canteen was still between Poc/Matoak? Let us know! What do you remember about your days at Camp Foley?