That is what the dining hall is going to be this summer! Just kidding, it will be climate controlled for sure. If you remember those couple of times last summer when the floor of the dining hall looked like a lake and we were always telling you to walk slow and be careful, I am sure you do if you worked in the kitchen, mopping up all that dirty water after meals!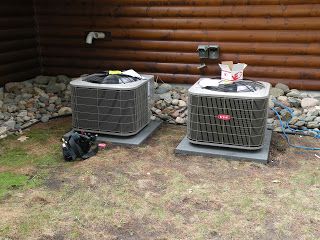 AC units on the east side of Dining Hall.
Well, fear no more! This spring we installed two air conditioner units. This will help out with the humidity issues we have in the dining hall and make a much more enjoyable place than it already is. Remember, rain, sun or snow, we eat 3 times a day, the only activity that goes on no matter what! I am excited to put them to use!
Until next time, stay cool!!
– Chris Mathiowetz, Director