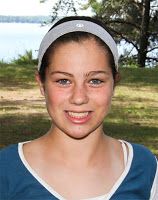 Ellie Mahoney
Ellie Mahoney, an 8th grader at Our Lady of Grace in Edina, MN shares some of her highlights at Camp Foley. This will be her 6th year at Foley!
Ellie resounds what many campers say about their happiest Foley memories, "It is meeting new people from everywhere." She describes the people at Foley as "nice and fun". She recalled her first sailing experience with her friends as being "windy". She "felt free, felt excitement and happiness." She continues to sail as it has become one of her favorite activities. Waterskiing also tops the list and she was very proud of dropping a ski and making it completely around the circle. In 2012, she is looking forward to "getting out on the lake and having my lake time".
Camp has changed Ellie in that it "made me realize that there is a lot to do out-of-doors instead of being inside." She mentioned that Camp Foley "means a lot to me because I get to do a bunch of things that I can't do in Edina." She is looking forward to returning to camp and said, "Everybody should come to Foley because it is fun and you meet cool people."
On a side note her U12A Hockey Team was the Minnesota state championships on March 16th! Congratulations to Ellie and her team! Also pictured from Camp Foley are Coach Dave Horan and Leah Gresham. Click here to see more pictures.

U12A Edina Hornets