Baseball in the 70s –
Looks like a scene from the Sandlot!
Alright everyone, this week we're going back to 1973! Forty years ago this summer was the last summer Foley was all boys! I used the old newsletters for some help in putting together this TBT post. I also found some other 70s history facts for you in our records. 


Quotes straight from the newsletters: 

Peter Graves Finds 'Mission Possible' at Foley – Peter Graves star of 'Mission Impossible' television series paid a surprise visit to the Foley Outdoor Education Program on May 30th while sixth-grade students from Highland Catholic in St. Paul and Ascension in Minneapolis were in attendance. His friendly manner, interest in the students, and sincerity greatly impressed all who met him. Without a doubt, his fine screen image is well portrayed in daily living. As one student said, "There is nothing fake about him. He is for real!" Mr. Graves was greatly impressed with the natural setting of the camp and marveled at the craftsmanship of the rock chapel. I can't remember the last time we had a television star show up at Foley… might have been in 1973. Good thing we have our own stars at Foley (the amazing campers, staff, and of course DOGS!).



Camp Library moves to Foley Hall!
Three Cabins Renamed – Three buildings used in the Outdoor Education Program that did not have Indian names were officially changed to Kickapoo, Menomonie, and Kiowa at the suggestion of the Hulserman brothers from Winnetka, Ill. who researched the project. Kickapoo used to be located behind the old Dining Hall and was used as the Health Center. (The current Health Center used to be a camper cabin!)


Other Fun 70s Facts:
1970: The camp Library was moved to Foley Hall
1972: Minnesota lifejacket law goes into effect. Those who own lifejackets are asked to bring them to camp, otherwise, they are available at the canteen, $5 or $6 apiece
1973: A new Ford Club Wagon came to camp to assist with the transportation for canoe and river float trips.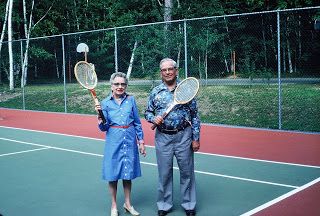 Tennis Court dedication! 
1975: Scuba Diving was offered for campers 12+ that had passed a specific level of swimming.
1975: Minnesota Twins free Baseball clinic offered by a pro scout at Foley.
 1976: Tennis courts dedicated to Erwin and Myrtle Schmid (Marie's Grandparents).
1977: The new Soccer Field was completed
1978: Vi Schmid received the American Camp Association's Sue Tinker Award for Outstanding Leadership in Camping