Guess what everybody?…. The Ratlin' Blog just turned 10 years old!
We have officially been publishing these weekly blogs since 2010, and it's amazing to look back and see all the different blogs that have been published over the years. So in honor of our Ten year anniversary, we're going to take a stroll down memory lane and revisit some of the most popular blogs from waaayyyyy back when. Let's get started!
The Ratlin Blog has 321 blogs published so far, and that number gets bigger every week. We've had 9 different people write blogs for Camp Foley over the years and many campers who have contributed to blogs throughout the years.
The first blog was published on April 16th, 2010. Written by none other than Alli Faricy herself. It is one of just 3 blogs published in 2010, and it is a welcoming message from Alli and it explains how one of Alli's goal for 2010 was to start a camp blog, mission accomplished! The most-read blog of 2010 was also written by Alli, and it details an experience she had during Outdoor ed, where the kids were stuck in the pouring rain while canoeing but had their spirits lifted when they got to see a beaver!
Sometimes things have bumpy starts and there are no blog posts in 2011, but they came back next year!
In 2012 we hit 1,000 views on one of our blog posts! Again written by our director Alli Faricy, this one was about Snapping Turtles! And is the second blog in our series of "Camp Creatures" where each blog highlighted a different creature that was indigenous to Minnesota.
You'll recognize a pattern because in 2013 we got 1,455 views on another "Camp Creature" blog. This one was all about beavers! This one was written by a past social media manager and counselor Krista Strobel. She would go on to write many blogs over her time here working at Foley.
Over the next couple of years, we didn't crack 1,000 for a while, but in 2014 a blog written by Krista was the most popular of the year. It was an original comic created by Thomas R., a camper from that year. It involves a mystery around camp with him and his friends.
And then our blog was 5 years old! 2015 was an exciting one because its the first year that our director Marie Schmid wrote the most popular blog of the year! She wrote a reaction to a Washington Post article, where Parents got in trouble with the law for allowing their child to walk home. She recommends a book explaining how the concept of camp helps children develop more independence, and talks about how she felt raising kids within a camp setting.
Rolling into 2016, it was Jordan Anderson who wrote the most popular blog of the year. It was our thanksgiving blog (this will come up again, pay attention) and Jordan chose to spotlight camp and show off some beautiful images of the Camp Foley grounds, with Sunsets included!
We got so close to 1,000 views in 2017 with 883 people visiting our blog to read Jordan's Thanksgiving blog, making it the second year it was the most read blog post (told you this would pop up again). This time Jordan highlighted a camper, Mae, who joined the Hall of Fame that year. he posted her 5-year essay and had Mae answer some questions about her time as a camper here at Foley.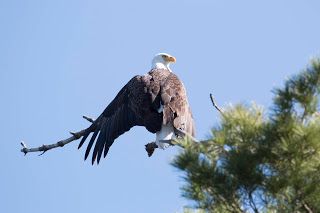 Photo by Alli Faricy
So we haven't hit over 1,000 views for four years now, well things are about to change… drastically! 2018 is the year we not only hit 1,000, but we also hit over 10,000!! With 12,609 views on this blog post, it is out the most read blog to date, written by Jordan. It is an animal spotlight post about bald eagles. I couldn't tell you why so many people thought this was so provoking but the numbers do not lie!
Almost caught up… second to last but certainly not least is 2019. The most popular blog of the year was published right after camp ended. It was written by Billy Weiss and gave campers tips for going back to school. Not quite bald eagle numbers but we did get over 500 views on this post.
And here we are, in 2020 with so much to look back on and so much to look forward to! I've have been writing the blogs for Ratlin Blog for a few months now, and I love that we continue to reach audiences with new articles, camp tips, and Foley updates. Stay tuned for more blogs to come!