This week I thought we could "dive in" on a very popular activity here at camp… DIVING!
Here at Camp Foley, we have a diving tower that is installed every summer right before campers arrive, then taken down and stored in the winter… so it doesn't freeze! Our first diving tower was a metal standing tower, that had to be walked out to its location by several counselors, walking on the bottom of the lake. In 2011 we replaced this tower with a new floating diving tower. It is much easier to get in and out of the water, and is much easier to install as part of the swim dock, which all the counselors are grateful for!
There are 3 awards you can receive in diving here at Camp Foley, the springboard basic, the springboard master, and the very difficult Flying Eagle. Campers must gain each award sequentially, no skipping around! The awards focus on mastering a variety of dives like the tuck, back, and leg straight dive. To earn these awards you must also be familiar with the mechanics of diving. These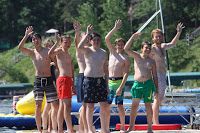 include your body alignment, your approach when diving, and even what the appropriate settings on the diving board should be. The last award in diving, the Flying Eagle, is considered one of the hardest awards to earn at Foley. It includes front and back dives, flips, and even a 720-degree spin. There is an added difficulty of having to perform all these dives with an audience! That's right, Flying Eagle recipients must complete a dive show in front of campers and staff in order to get everything checked off.
Our most current recipient of the Flying Eagle is Ben Scholtz, who earned the award in 2019! Check out pictures from his dive show below…