Video Creativity
Campers continuously return to camp for the plethora of athletic and intense activities camp has to offer. Waterskiing is a favorite activity on the water. Paintball is a unique land activity, where experience and a mixture of athleticism and strategy are required. What we don't always consider, though, are the just as popular creative activities Foley offers. One of these activities that get continuous sign-ups is Video Creativity.

Campers who so desire may take a Video Creativity Class. They will work together to create short 2-3 minute films to be shown on the last day of camp on a screen in the Wabigoniss building, in front of all of camp.
On the first day, campers come up with a script and outline for their video. Some popular video themes include:
Music Videos
Movie Trailers
Counselor Impersonation Videos
V
ideo Blogging (Vlogging)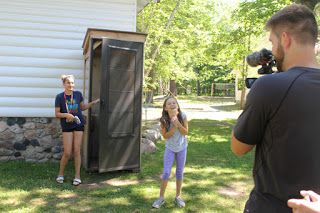 After a strong outline is made, the videotaping process begins. The 2nd day is devoted to filming shots for the scene. Campers can rehearse and practice lines if time permits. On the last day, campers complete their last-minute touches or filming. They give the counselor notes on songs or edits that they want in the film. Counselors are given time after the film is shot to then make a video, in Final Cut Pro software. Once complete, the video is ready for the last day of camp.

Check out the Camp Foley Youtube channel to see some of our past video creativity videos!