Camp Moves Me is officially over and GOOD NEWS! We achieved our goal and then some!
Hi everyone, Ally Daily here, and I just completed my first ever Camp Moves Me campaign. As a camp, we reached our goal of over $12,000 raised from a whopping 211 donors! The money raised from this campaign goes straight to the Foley Scholarship Fund to help send more kids to camp. Here is a recap of my first time experience with this fundraiser.

Now I'll never claim to be a runner but walking a mile and a half a day seemed achievable. This was my first try at fundraising, and I was nervous! I couldn't stop thinking about all the bad things that might happen… Now don't worry, this story has a happy ending. But in the beginning, I had no idea where to start. So like every good millennial I looked to the internet for answers. That's where I discovered the not so new phenomenon of "Daily Vlogs". Making up large parts of YouTube, these videos catalog a person's everyday life and show that they are just like us. Idea found! I went ahead and started filming myself taking a mile and half walk every day.
While I never got a call from Ryan Seacrest to create my own show, I got a lot of great responses from the videos. After I got over the nervousness of asking for money, the sky was the limit, the trick is that unlike most pleas for cash, this cause was super important to me, getting more campers to come to Camp Foley.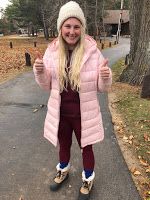 I walked 46 miles this October and made more than my $500 goal. Sure it was fun pretending to be a social media starlet, but this campaign is about so much more.  I got donations from family members who had only ever heard about camp because of my many years of boasting as a kid, I got donations from cabin mates I had grown up with but hadn't spoken to in years, and I received tons of encouraging messages from people, telling me to keep going FOR THE KIDS!
What this month of fundraising taught me is that anyone can do it, with some hard work and persistence. I would encourage everyone who loves camp to participate next year. Make your own videos! Or find out what will work for you. Walk, run, bike, skateboard, just get out there and move. Because like everything here at Foley, we do it for the kids.
If you want to check out my vlogs, they are on my Facebook page.