Founder's Day is a special day at Camp where we take the time to recognize the storied history of Camp Foley in a few ways. This past summer's Founder's Days were made extra-special because of our celebration of 95 Years of amazing camping experiences at Foley.
To celebrate, each session had a 95 "something" challenge for campers and staff to complete. These challenges incorporated the numerical value of 95 as well as some level of spirited competition. Below is a recap of what each session did for our 95th Summer of Adventures.

1st Session
Campers during the 1st Session were given the option to complete a 95 song challenge. Specifically, they had to sing 95 DIFFERENT choruses to any camp song or jingle. There were 104 total campers that successfully participated in the challenge. The official time it took to sing all 95 choruses… 27 min 19 sec!

1st Session Singers
2nd Session
This session was full of a handful of different challenges for campers to compete in such as 95 minutes of nonstop piano playing, 95 minutes of continuously treading water, 95 leapfrogs, 95 passes of a ball 20 feet apart, 95 free throws, 95 jumping jacks, 95 seconds of balancing on a slackline, 95 points in Archery using 12 arrows and 95 "upsides" and "downsides" with a tennis ball and racket. Campers could rotate challenges or stay at one for the whole time.

2nd Session Water Treaders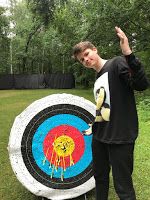 James Brenner, 16, shoots a
98 with only 12 arrows.

3rd Session
Two 9 minute and 50 second scavenger hunts awaited 3rd Session campers. One hunt was for outside items and the other was for items inside the cabin only! Energy was high as each cabin raced against the clock to gather all of the items on the list. Scavenger hunts have been a big part of Foley programming throughout the years and it was fun to incorporate them again.

3rd Session Scavengers
4th Session
A classic camp game made its way back as each cabin sent a representative up to determine their evening program through the method of horsengoggle. Winners then challenged another cabin to an evening program like volleyball, baseball, basketball, human foosball, and others for a 95-minute battle!    

4th Session Horsengoggle Battles
We reflect on our wonderful 95 years of history and legacies left by past campers and the legacies to be left by current campers. What do we have in store for our 100 year anniversary? Join us next summer and be apart of the journey!