Get Your BOO On
Halloween is just a few days away! It's a bummer Halloween doesn't fall during the summer months because it would be the perfect holiday for Camp to celebrate! At Camp, we love to dress up, eat candy (what up Canteen!), have lots of fun, create fun crafts, and use imagination.



We know not everyone celebrates Halloween, but the holidays can be a great time to get together as a family and do something fun! Whether you are going all out this Halloween or not at all, below are some links to help any last-minute celebrations this week.

Last-Minute DIY Halloween Ideas: Crafts, Gifts, Costumes, and Activities

Candy, Candy, Candy: Tips and Tricks for a Healthier Halloween

Last-Minute Halloween Party Ideas: Cheap, Last-Minute Party Additions

Hosting a Party?: Halloween Party Checklist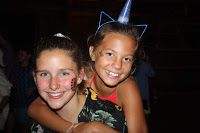 Prank Your Kids: Jimmy I Ate All of My Kid's Halloween Candy! I'm sure you've seen these videos from Jimmy Kimmel as he's been promoting this prank for the past 6 years, but if not check it out for a good laugh!  Anyone going to try this on their own kids this year?!

More Laughs: 18 Tweets from Parents about Halloween!
What are you doing for Halloween this year?! Comment below and let us know!