How many of you have gone to one particular session in your whole camp career? Did you know each session has a unique group of kids who come to camp and unique programming you might not experience in another? The first session starts fresh and gets camp rolling for the summer. Second session experiences the Fourth of July. The third session brings high energy to camp as summer hits the halfway point. The fourth session draws camp to a close and gets the last "hoorah" for the summer. Each session brings something new to the table for anyone who attends. We asked a few of our campers who switch sessions periodically what they think is awesome about trying a different one:
Aria M. (Camper, 7 years) – "[It's a different experience] going the first session especially if it's your first year. The new counselors are experiencing this for their first time too, and I think that's a really special bond. Also, say I go the first session my fourth year, then I go different sessions but come back my 7th year, you remember and see all those friends you made a few years back which is amazing."

Max breaking it down at
the Grand Dance Festival
Max C. (Camper, 8 years) – "The positives of trying a new session are meeting new people and reconnecting with old friends who stopped going your session."
Seleen B. (Camper, 3 years) – "One positive of trying a new session is meeting new people [and] also being put in a different cabin."
Eli K. (Camper, 7 years) – "In my opinion, there is a myriad of positives of trying a new session. I met campers in other sessions that would later become my octos and my counselors. You can make a bunch of new friends and maybe even see an old friend from a couple of years ago."

Jillian O. (Camper, 6 years) – "Camp Foley provides a new experience for me every year. Foley pushes campers outside of their comfort zone to be themselves in a different environment for positive change. During my time at Camp Foley, I have attended the first, second, and fourth session."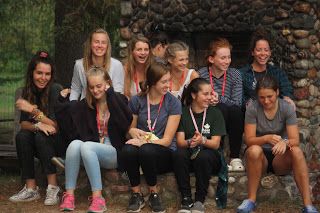 Jillian is currently pursuing her Gold Paddle Award. 
By attending camp at the beginning of the summer, 
she has the opportunity to get closer and closer to her goals 
due to smaller class sizes and more one-on-one 
attention with activity counselors.

Campers enjoying a sunny day by Crafts!
Helen S. (Camper, 4 years) "There are many different perks for going to camp for two or more sessions. One of them is that you get to meet a new set of campers. This means you can bond with your cabin mates and become friends with multiple people. A second great thing about staying two sessions is that if you want to try different activities and you didn't have time to do all the ones you wanted in one session, you can do some in a different session. A third great advantage of staying more than one session is that you get to bond with the other people staying multiple sessions. You can get to know them more on change-over and during both sessions."
Why not try something outside the norm?! Maybe try recruiting a friend from your usual session and bring them with you to a different one. Consider the opportunity of switching into a different session you might not normally attend, meet new people, and have your best camp experience in Summer 2019!