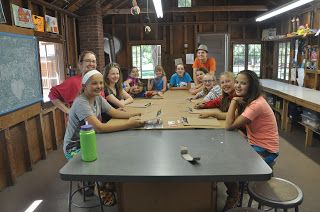 Oh, boy. Is it March already?
Around this time of year at Camp Foley, we start seeing temperatures well below AND above freezing. With rain, snow, and sunshine all in the same week, how can we plan a fun day? If the weather's got you down, look no further than the trusty indoors. Here are three great ideas to snag for your next rainy day.
1. Bake and decorate cookies.
Cookies are quick and easy, and there are flavors for every picky eater! Grab a couple of friends or family members to help you whip up a batch, and then decorate to your liking. If you're feeling especially artsy, we think these flower cookies are almost too pretty to eat — give 'em a shot!
2. Build a comfy fort.
What could be better than snuggling up in a blanket fort with a book or movie? Make one big enough to share with pals, or shut the world away for a while and enjoy some alone time. This page has some great ideas for forts that will keep you cozy until the sun returns.
3. Get started on yoga.
If you have some space for a little movement, yoga is a great indoor activity for almost any age and skill level. Not only does yoga strengthen muscles and improve flexibility, it can also be relaxing (especially with the sound of rain outside!).
If you're new to yoga entirely, here's a really helpful beginner tutorial. Parents, this one's a great video for getting your younger ones into it, too!
We know it's tough to stay inside for too long, but every Foleyite knows that fun is everywhere you look, no matter the weather. Let us know what your favorite rainy day activities are! Comment below or fill us in on Facebook.