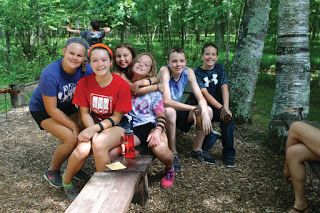 Finding belonging is a lifelong process and a roller coaster of emotions. We find that coveted sense of feeling welcome and loved in many ways — through our family, our friends, fun new places, and the people and things we've known forever.
Foley campers come from all walks of life and see the world through their own unique sets of eyes. When they all come together for that special two or four-week period, however, campers find that Camp Foley is a "home away from home" that will always welcome them with open arms. This is a time to escape to a place where the word 'family' has nothing to do with where you're from. And there is something about coming back year after year, reminiscing about old camp memories, and the excitement of experiences yet to come that unites all of us as one big Foley family.
Think about all the places you can truly call home. What people do you see? What sounds do you hear? What memories, happy or otherwise, make you feel connected to those places? Coming to Camp Foley, whether it be for the first time or the tenth, gives each camper, parent, and staff member yet another home to which to return. It's one more summer that will expand our understanding of what it means to truly belong. We know that feeling comes from finding ourselves in a place where our talents and quirks are fully embraced by people who believe in us. Simply put, we feel at home when we feel loved.
At the end of each summer, we all have to return to our other homes. We might feel sad or nostalgic when we leave, but there is something very important to remember about what makes Camp Foley a home away from home — the things we learn and the people we meet never leave us. We take them with us everywhere we go.
Waiting for the next Foley summer to arrive always seems to take forever. But did you know that registration is happening
right now?
Get registered and join us in the countdown to Camp Foley 2016!