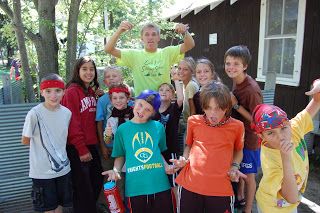 Jordan teaching Nature in 2012.
Growing up in the area, I have always had a passion for all the critters I could find in the woods. As a kid, I would come back to my house with an assortment of critters in my pockets: a snake, a frog or two, and possibly some worms, depending on the day. This passion for nature brought me to Foley even before I was a counselor, learning more about the snakes and spending time at Hidden Lake catching as many turtles that would fit in the bottom of the canoe.
After making the decision to be a Foley counselor in 2012, I taught in the Nature Center and began to pass on my love for all things that creep, crawl, and swim (except spiders, of course). Being part of the nature program, I got to completely relive my childhood, which was incredible! A big difference in being at camp is I had the opportunity to spend my time in the woods with a group of campers, rather than exploring alone. This group-style adventuring allowed for the finding and safe capturing of a wide variety of critters during our hunts.

Jordan teaching a Critters class during Environmental Ed
in Spring 2013.
During my first summer as a counselor I experienced many critter happenings for the first time. A vivid memory I have is having campers catch redbelly snakes and create habitats in the nature center for them. We fed the snakes and kept them for about a week at a time. At the end of one of the sessions, we came across seven red belly babies as we were cleaning out the tank. I have never experienced a captured animal giving birth while in captivity and I loved sharing that experience with all the campers.
Among the red belly snakes, campers also caught salamanders, skinks, garter snakes, painted turtles, saw snapping turtles, found worms, and gathered many insects for our critters to eat. I enjoyed passing along information that I love and sparking their passion for the outdoors and all it contains.