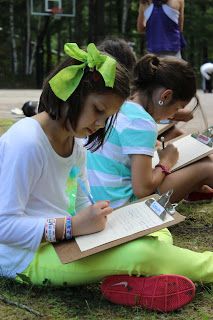 Journalism campers hard at work!
This summer, we had some ROCKING Journalism classes. For one of the signups, some Foley campers had the opportunity to blog for and about camp! For the next few weeks, we'll be sharing the camper-blogs with the Foley community a few at a time.
Camp Food

by Alejandro R.
I love Mexican Lasagna because it is delicious. The cheese is mouthwatering. The meat build up muscle strength, and the pasta is amazing. If I could eat Mexican Lasagna everyday, I would eat it. 
One day I had Mexican Lasagna, and it was the best day of my life. It was so fun eating a few plates of the lasagna. I knew it was my favorite food and it changed my life. One day I was tired, and when I ate Camp Foley Mexican Lasagna I started to be awake. 
Trees and Nature

by Vivan B. 
Camp Foley has a lot of nature that we need to take care of, for example, trees. They are so important in camp and we always try not to throw trash at them. They are like the heart of Camp Foley; they are so important to people and animals. We also need them to breathe. They are so important you don't even notice. Now every time you see a tree, or any other plant, remember that you need to take care of it. 
Crying of Happiness

by Paloma C.

Girls Friendship Campfire 3rd Session 2013.
The legendary hug circle.
Here at Camp Foley, there is a lot of happiness. Friendship makes everyone so happy that everyone cries! One time, I was at a goodbye Friendship Campfire, and everyone got to thank their friends and counselors. It was a beautiful night with friendship and nature all around us. Campers sang songs, and everyone was really sad to leave Camp Foley. Everyone ate s'mores, and there were lots of hugs! I experienced what friendships was all about and what love is all about.