This week's guest blogger, 2013 counselor Tess Lee, tells us all about her fear of spiders and how her time at Foley has helped her to (slowly) begin conquering the fear. This year, we think it would be awesome if every camper took a page out of Tess' book and tried to conquer a fear this summer at camp! 
Let me give you small snapshot into my life, I feel comfortable in a city, in the mountains, in lakes, rivers, oceans, pretty much wherever, as long as I am surrounded by good friends. But what really makes my skin crawl are bugs…spiders especially. Now I know what most people are thinking, all that, "they are more afraid of you then you are of them", and the "they wont do anything if you dont bother them." I have tried hard to believe in these positive thoughts, but the honest truth is that I can't even look at a spider without my palms sweating, and some sort of yelp coming from my mouth.

What is so great about camp is how completely engulfed in nature you are in nearly every activity, so bugs and such are going to be a natural occurrence.

It started the night of one of last year's Flick-n-Floats, I was in the Washo getting ready for bed with my cabin when one of my campers casually let me know there was a spider right on my forehead. One can imagine what a scene I made, ripping off my sweatshirt and slapping myself in the face, all the while screaming. I realized this was getting out of hand…
Being a referee on the paintball course last year, I would be walking through webs on the woods ball courses, take a deep breathe, wipe off the spiders and such, and just keep on moving. I learned that if I had spent day in and day out in those woods all summer and never got bit by anything worse than a mosquito or a tick here and there that maybe I was being a little irrational with my fears all along.Although my fear of spiders has not completely disappeared, I have learned to deal with them without tears, and running now.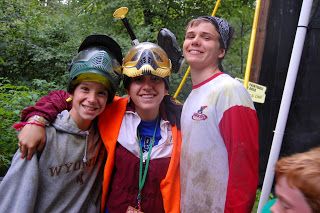 Tess, paintball ref extraordinaire!
Being a camper I always relied on my own counselor to get rid of creepy crawly things, but now being a counselor, I have tried to take on that responsibility. Even though many times I am still running away, I stop, take a deep breathe, and try and walk back and deal with that small little creature, which may seem like a small insignificant step, but for me has taken years. If I think about the line that I have heard hundreds of times over, "they are more afraid of you than you are of them," I cant help but think that is a little true now, if I was a small tiny insect (even shorter than I am now), and saw some giant screaming at me and running, I would definitely be a scared.
-Tess Lee
What fears will you conquer this summer? Perhaps you'll try a new activity, talk to someone you've never met before or try to earn a difficult award. With whatever you try to conquer, we're excited to help you try!