Sunday, March 18, 2012, was a Foley First for my son, Peter, and I! We went canoeing on Whitefish Lake! And to make our prelude to spring even more exciting, we made tin foil dinners in the fire pit overlooking Whitefish Lake. We said farewell to winter, by cutting up and burning our Christmas tree. On this unbelievably warm day for March in Minnesota, we had a Foley First and we shared it together!

Traveling through our 'narrow river'.
With excitement and wearing my Bogs and life jacket, I pushed our canoe into the icy waters of Whitefish Lake. We traveled through the 6-foot breaks in the ice. It was like traveling on a narrow river. We were totally amazed at the clarity of the water and could distinctively see the bottom. We could feel the warmth of the sun and occasionally the extremely warm heat waves that we passed through.
Peter and I traveled straight out from the Marina, did a sharp right turn, and headed toward the shoreline down from camp. We went as far as we could and our "water canal" stopped. It was so narrow that we could not turn our canoe around, so we turned our bodies around and started back. After rounding the ice corner, we quickly discovered that this enormous sheet of ice had closed our path! As we held onto our canoe, we pushed ourselves over the ice to open waters! Bogs were a much better choice of footwear compared to Peter's bare feet!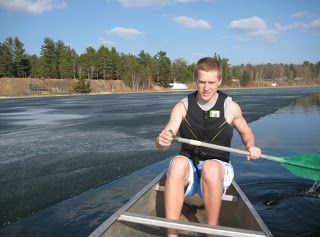 Peter enjoying the March sun.
In all of my years at Camp Foley, I have never canoed in the middle of March on Whitefish Lake! I am so grateful to have shared this experience with my son. I challenge all of our parents to find a new experience to share with your children; it is making memories to last a lifetime.
– Marie Schmid, Executive Director.