In the winter this box turtle will shut down his lungs!
Brrrrrrrrrrrrr its pretty cold up here in Pine River, Minnesota! While the Foley team and I try to keep warm I thought we could spotlight some creatures who seem to have winter all figured out!
We have lots of different animals that like to hang around camp, deer, rabbits, squirrels, and even bears… OH MY! 
Here are some things the animals around foley do to survive a Minnesota winter…
Turtles don't breathe!
You read that right, our freshwater turtles go into a coma-like state during the winter to keep their cold-blooded bodies from freezing. The turtles slow their metabolisms, shutting down organs until warmer days return.

Black Bear up from a nap
Not a cat nap… a BEAR NAP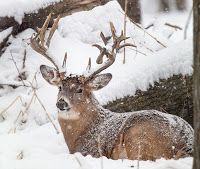 White tailed deer "chillin"
We all know bears hibernate in the winter. Meaning they build up fat all year and spend the winter months sleeping and waiting for spring. But did you know North American black bears have the special ability to lower their metabolism? They can keep warm all winter without a big drop in body temperature, so they stay warm all winter long.

A Deer winter coat
The deer at camp have special fur for wintertime. A deer's "winter coat" is made of hollow hairs that trap air. This provides an insulated outer layer that can keep them warm even when it gets to -30 degrees.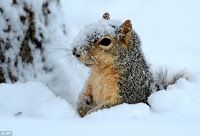 Grey squirrel looking for nuts
 A feast fit for a squirrel 
Squirrels make sure to store up food to eat later on in the winter season. They usually remember exactly where they've buried their
stash of nuts. Red squirrels even make mushroom jerky by hanging pieces to dry between branches so that it's better preserved!
An Insulated Eagle 

Bald Eagles keeping warm
Eagles have physical adaptations that help them stay warm. Their feathers are wonderful insulators for keeping warm and incubating eggs. The roughly 7,000 feathers an eagle grows help keep it warm and dry. Underneath, eagles have down feathers that trap pockets of air next to the eagle's body, where it warms up and is prevented from escaping.
We, humans, are lucky to have indoor heating and lots of coats, but these animals have adapted to face the cold in many different ways. Maybe we can learn a thing or two from them… Stay Warm Everybody!