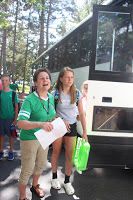 First steps toward investigating
independence.
As a parent, it is important to know you have a support system backing you as you take on the beautiful task of raising children. Our mission at Camp Foley is to partner with parents to guide children to grow grit and investigate their independence in a safe, kid-focused environment. Parents, we have your back.

Time in the muck with your besties?
Yes, please.
Some of the best, and maybe hardest, acts of parenting occur when a child is provided the opportunity to branch out and experience life without a parent's immediate guidance. A longtime ACA member and camp director, Audrey Monk, wrote  5 Reasons Why Great Parents Send Their Kids To Camp. This is an incredible post that simply puts 5 of the major benefits of camp into words. Click the link to read why allowing a child to develop independence, experience outdoor childhood fun and adventure, relax, unplug, and become better at making and keeping friends could be the best decision you make as a parent all year.
If that article speaks to what you desire for your children, grandchildren, or neighborhood friend – REGISTER THEM TODAY!