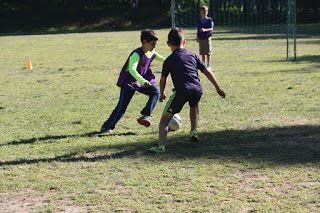 We all know what it's like to watch the best of the best in action and think to ourselves, "I want to be like them someday." Having role models is such an important part of growing up and figuring out who we were meant to be and what we were meant to do.
Yesterday, the world said a tearful goodbye to Dutch athlete Johan Cruyff, one of the greatest soccer legends of all time and a role model to generations of stars to come. Known for his quick and crafty style of play, the former Barcelona and Ajax player revolutionized soccer in the Netherlands and around the world, helping to develop what is referred to today as "Total Football." He was a perfect example of what it meant to be smart on the pitch — while he was never much of a show-off, he played to the strengths of his teammates while scoring nearly 400 goals over the course of his career.
To this day, Cruyff and his signature style live on in modern soccer, and the kids of today who will be legends themselves tomorrow will certainly know his name. At Camp Foley, you can expect that our soccer coaches will be looking for ways to bring that same intelligent, team-orientated mindset to every game we play this summer.
So thank you, Johan Cruyff, for decades of inspiration and constant reminders to follow our dreams. We at Camp Foley will think of you with every beautiful goal we score.