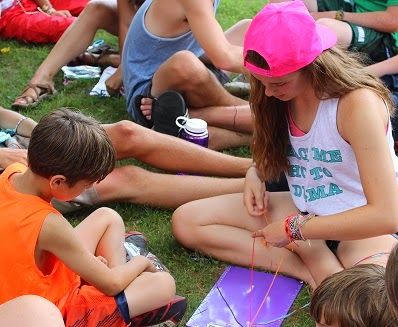 Campers interact with a variety of other children to help
prepare for a successful future.
"Ready, Set, Go: How Camp Prepares Children for Lives of Success" was published in the 2013 November/December issue of
Camping Magazine.
 In the article, Stephen Gray Wallace, MS Ed, writes about how camps play a role in promoting "readiness" (how prepared children are to be productive and successful adults) and reducing risk (the likelihood of children to participate in risky behavior).
He says that at camp, children "build for essential pillars." These essential pillars include Sense of Self, Rites of Passage, Positive Risk-Taking and Mentoring Relationships. Read the full article on the American Camp Association's (ACA) website to see how these four pillars are linked to positive youth development, reduction in risk, and overall mental health. 
Once again, the ACA is providing examples as to how "Camp Gives Kids a World of Good." We at Foley love the fact that one of the things we help promote is readiness and that we can help reduce risk.