I recently read a great article written by Richard Dolesh which really highlighted the need for places for kids to play – "A Living Room In The Woods".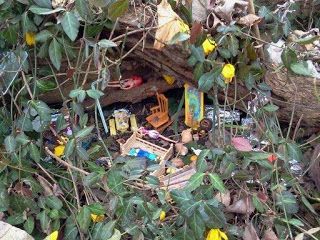 An outdoor living room, created by kids in Dayton, OH.
Dollish tells us "A park manager from Five Rivers MetroParks in Dayton, OH, Todd Catchpole, recently told me about finding a secret nature place built by kids in one of their parks." "The tableau was constructed from grapevines, stones, and other natural materials gathered from the nearby stream and populated by small dolls and toy furniture and decorated with fresh daffodils."
Five Rivers MetroParks has designated a number of Nature Play areas in their parks, and this discovery was more than the creators could have wished for. "It was a delightful place, full of the imagination of children at play."
This "Living Room in the Woods" highlights an important truth – the immense value of parks and places of recreation for kids. "Parks are one of the primary places that kids – and parents – can connect to nature and the outdoors. This got me thinking…this is also true of summer camps! Like parks, they're a source of true nature and the perfect place where kids can play safe and learn. Summer camps offer a haven for children to explore the great outdoors, away from stranger dangers, and they offer an environment that is tailored towards their positive development. In today's fast-paced world, it's all too easy to overlook this essential necessity that is so important to the growth of tomorrow's leaders.
– Ricky Searson, Assistant Director.