We are continuing our History blogs with a, particularly fun one today! We are going to travel through history and check out how the clothing trends have evolved over the last 95 years of Foley history. Trust me there are some wild outfits!!!!! Scroll down and take a look for yourself…
1930s
Entering the 30s with our oldest pictures we have in our archives, you can clearly see the style of the time. In the 1930s, the athletic body is seen on boxers, swimmers, and Superman became the ideal men's shape. Clothing reflected this new silhouette with extra broad shoulders, thin waists, and wide legs. Everything was big, tall, and surprisingly comfortable, as the looseness of clothing made it easier to work and play. This rang true in the Camp Foley Community during the 30s as well. You can check out Father Foley below and some of his counselors, they all have sturdy wide-legged pants and button-up shirts, perfect for looking like a camp professional and like a manly outdoorsman at the same time!

Father Foley and staff looking sharp in 1930

Young Boys at Camp Foley boxing in the 30s… in Khakis!
1940s
Now we head into the 40s, where things start to look different. WWII fabric rations limited cloth to make suits but not style, and most clothing got simpler as the supplies needed to make different clothing was instead repurposed into uniforms or turned into medical supplies. We see some of our first Camp Foley Merch in the 40s, with simple designs on a basic shirts, because of rationing from World War II. Thanks to strict military rules about pants, when people came home from war they rebelled against the fashion norm and began cuffing their pants, and even buying them too long on purpose. Men were tired of scratchy uniforms and confining suits. The freedom that casual clothes brought was a big sigh of relief. Hawaiian shirts, for example, were worn all day, and even during nights, in the summer.

Campers and a counselor sporting a "cuffed pant" look

Early Foley Merch shirt says "Father Foley Camp"

The Boys in line for Canteen serving LOOKS

1940s Swimsuits!
1950s
Here we are in the 50s, and things get fun! 1950s men's casual clothing had a huge variety of options, with bold splashes of colors and overwhelming use of new textures and materials. The cost of clothing plummeted after the war, and new synthetic materials made clothes easy to wash and wear.  The button down shirt was a year round style in both long and short sleeves. Shirts came in plaid, plaid, plaid, and more plaid. Belts are still very popular, and becoming thinner to pair with more slimmed down looks. The shirts the camper and counselor are wearing might look familiar. because that design was brought back for our 95th anniversary!

This Shirt look familiar?

Check out all that flannel

Father Foley is really pulling off that belt!
1960s
 And just like that we made it to the 60s! Things get colorful and bold. Informal is in and formal is OUT. People started dressing down and wearing less suits and more casual clothing. 1960s  shirts included classic dress shirts, casual T-shirts, beatnik turtlenecks, Large collar button down shirts, and sporty  polo zip shirts were popular, with slim fits and bold patterns like stripes or polka dots.

Some color to show off the color of the 60s

Camp Staff aerial pic showing off the new staff shirts
1970s
Rolling right into the 70s, we finally have girls fashion too! We also transition into more color photography. This gives us the opportunity to see some of the great camp merch in its full glory. The 70s was a decade with no one style of fashion. Walk a block or so on any big city street, you would see people wearing block-print  dresses, tight tie-dye T-shirts and hip hugger jeans, handmade hippie attire, or big boots and disco outfits. Wide bell bottoms can be found on some campers in this decade, but you will definitely see DENIM! Denim jeans, denim shirts, denim jackets and more!….

Girl Cabin posing, the yellow and navy shirts are retro staff shirts

Should we bring this design back?

The 50th year t-shirt, with matching shorts!

Campers rocking the DENIM
1980s
Welcome to the 80s! This decade was known for bright colors, big statements, and BANGS! We can see campers and staff with big hair to match bright colored t-shirts and high waisted jeans and shorts. The vintage red Camp Foley t-shirt featured below shows the style of the time, with a big fun graphic on the front. It became very popular in the 80s to wear tees with different logos, the most popular being Coca Cola and Nike.

A typical 80s day at Camp Foley

All the BANGS!

How cool are these shirts?!
1990s
And now we come to a particularly fun decade, the 90s! The shirts are too big and the shorts are too long. Ripped and distressed jeans were worn by many, and baseball caps were always worn backwards. The 90s were all about grunge, it became a big deal to find and wear grandpas old flannel or go thrift shopping. Hip hop artists hit a high popularity in the 90s, leading to many young people wanting to looking and dress like them. The 90s fashion trends followed the kids all the way to camp, and in the pictures below you can see campers buying Camp Foley merch that is 2 or 3 sixes too big, remember the shirt got cooler the bigger it was!

They could've walked off the set of Full House

Can't get more 90s then a neon jacket around the waist

Baseball caps worn backwards ALWAYS!

Check out that oversized Camp Foley Tee
2000s
So close to our own decade, but its surprising how much was so different just 10 to 20 years ago. The early 2000s trends still included things carried over from the 90s, like oversized shirts, and jeans, While these trends are similar, the jeans are a little more fitted and the shirts a little less giant. The Foley Merch takes on its most modern look with with soft colors and clear font. Girls replaced tube tops with camis and tanks and boys stopped wearing so many cargo pants and flannel and went for more layers and comfy clothes here at camp.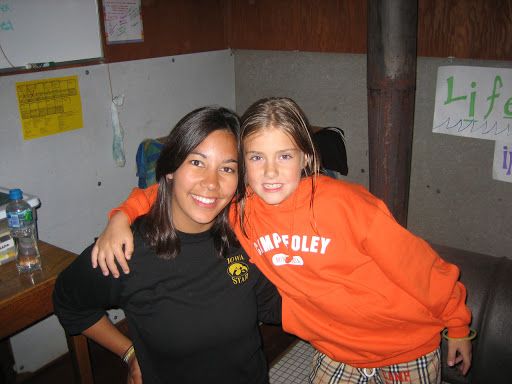 Some Fun Early 2000s Foley Merch

Baseball caps are still in!

Remember those "kinda mean" shirts we all wore in 2004?

Every girl has done this to her shirt at least once between 2000-2009
2010s
We have finally arrived in the present! You don't need me to explain the trends of today, just go look in your closet. But one of the greatest things about Camp is that campers don't feel pressured to follow any one fashion trend. They come to camp to be campers and get away from all the expectations of fashion. We encourage all our campers to dress as silly as possible for camp events, like the camp Dance, 4th of July, and our big end of camp celebrations at the end of each two weeks. It is so cool to see how the campers fashions have changed over the years, but one thing that will never change is that camp clothes will ALWAYS be in fashion.

How many different accessories can you spot?

Taken at the Safari Banquet in 2017

All that DENIM! Could be the 90s

A Smile is always a fashion trend at Camp Foley